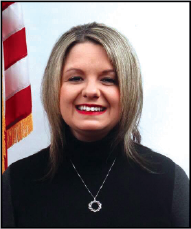 CAMDEN — Name: Amy Johnette Wright Perrin
Town: Camden, AR
Birthday: August 18th
Occupation: M.S. Community Counseling. Spent 16yrs + in higher education administration. Assistant Mayor since June of 2016
Family: Married to my wonderful Yankee Pittsburgh husband, Erik Perrin; proud mom of my nine-year old daughter, Carlee Perrin
Community activities: Have/or currently serve on various boards: Junior Auxiliary, Former President, Christian Health Center, Adult Education Board, (COBITC) - Calhoun/Ouachita Business & Industry Training Consortium.
Favorite hobbies/past: Traveling, snow skiing, swimming, shopping, relaxing on the beach, spending time with family & friends and, formerly ,motorcycle riding!
I drive a: GMC Acadia & Toyota Tacoma
The last book I read was: 'The Five Love Languages Of Children" by Gary Chapman.
My favorite comedian is: Robin Williams.
My favorite type of music is: Varies depending on my mood: Stressed - Modern & Hard Rock (in some strange way it Calms Me), Christian Rock – (Keeps me feeling centered and uplifted), Country – (I live in The South, Isn't that mandatory?!?; Also Great when I'm feeling nostalgic!
The last concert I attended was: Bon Jovi!
My all-time favorite movie is: "Shag"
My favorite cartoon is: "Big City Greens" & "Pinky and the Brain"
My all-time favorite television show is: "This is Us" & "Grey's Anatomy"
My favorite historical figure is: Abraham Lincoln & Carl Jung
My favorite restaurant is: The Original Italian Villa
My favorite junk food is: The AMAZING bread pudding from Post Masters Grill
I absolutely will not eat: Anything raw or still alive!!!
My teenage crush was: John F. Kennedy Jr.
My heroes are: My daughter! She has faced far too many obstacles for her age. She is a fighter and never gives in or up! She is my DAILY inspiration!
My favorite sports is: Football and competitive dance
My favorite team is: The Pittsburgh Steelers & KDAS - Kathy's Dance Art Studio Competition Team
Four guests at fantasy dinner party: Abraham Lincoln, Carl Jung, Oprah Winfrey and Dr. Seuss
My favorite item of clothing/accessory is: My Rustic Cuff (bracelets) & Yoga Pants
You'll never catch me wearing: Anything scantily clad
Three items you will never catch me without: 1. Germ-ex 2. My Cell Phone 3. My Keys
My favorite vacation spot is: The Caribbean!
If I could travel to any place in the world free of cost it would be: Ireland, Italy and/or Paris
My pet peeve is: People who are dishonest.
When I'm nervous: My neck often turns 5, 000 shades of red
If I've learned anything in life it's: Anything is possible!
The best advice I've ever been given is: Don't get so caught up making a living that you forget to make a life. Also, never do anything halfway.
If there's one thing I won't do, it's: Compromise my ethics/ideas.
My best trait is: Loyalty
Sponsor Content
Comments