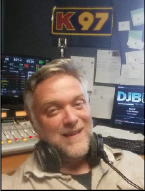 CAMDEN — Name: Doc Bryce
Town: Camden
Birthday: Sept. 22, 1972
Occupation: Radio personality
Family: I am claimed by my radio family
Community activities: Board member on the Women's Crisis Center and the Unity group.
Favorite hobbies/past: DX'ing, weather spotting and chasing. Comicon anime.
I drive a: Ford F-150, Dodge Caliber, creepy yellow van.
The last book I read was: "Rich Dad Poor Dad"
My favorite comedian is: Eddie Murphy
My favorite type of music is: EDM, country, rock, cheesy 70's love songs.
The last concert I attended was: Guns & Roses
My all-time favorite movie is : "Fletch"
My favorite cartoon is: Tex Avery - Rock-a-Bye Bear (1952)
My all-time favorite television show is: "Burn Notice"
My favorite historical figure is: Doc Holiday (no relation)
My favorite restaurant is: Allan's
My favorite junk food is: Blue Bell Cookies & Cream
I absolutely will not eat: anything with bones
My teenage crush was: Topanga
My heroes are: Batman
My favorite sports is: Volleyball
My favorite team is: Pittsburgh Steelers
Four guests I would invite to my fantasy dinner party are: Mark Twain, Marie Curie, Dana Wetherbee and Nathan Greeley.
My favorite item of clothing/accessory are: Boots and felt hat
You'll never catch me wearing: Panties
Three items you will never catch me without: My phone, my keys, and a shirt.
My favorite vacation spot is: The family farm
If I could travel to any place in the world free of cost it would be: Ireland
My pet peeve is: Blue haired old biddies driving 15 under the posted speed limit in a no-passing, two -lane road, especially when the posted speed limit is 20.
When I'm nervous I: Do risky things for a Klondike Bar.
If I've learned anything in life it's: Not everyone can do what I do, and that's ok. Cause I can't do what everyone else does.
The best advice I've ever been given is: When you're green you're growing. When you ripen you rot.
If there's one thing I won't do, it's: Wear panties.
My best trait is: My sense of humor.
Sponsor Content
Comments