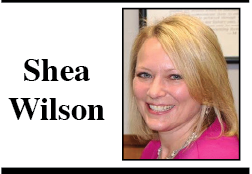 CAMDEN — After seven years of criticisms and running for office on platforms of how bad it is and the need to repeal "Obamacare," successfully electing President Donald Trump, and having control of both the U.S. House and Senate until January of this year, Republicans still have no alternative to the Affordable Care Act.
And even if they did, the existing law is bogged down in federal court facing legal challenges. What is an ailing county to do?
I understand the complaints about the ACA. I liked my private insurance better back when I paid less and the government wasn't involved.
While there are some pros to the plan, there are many cons — like the cost.
That said, the complainers have brought nothing to the table but complaints. I want the fix that was promised — and I would prefer it delivered by unified leadership sooner, rather than later.
But this is what I am getting instead:
"The Republicans are developing a really great HealthCare Plan with far lower premiums (cost) & deductibles than ObamaCare.
In other words it will be far less expensive & much more usable than ObamaCare. Vote will be taken right after the Election when Republicans hold the Senate & win back the House. It will be truly great HealthCare that will work for America," Trump declared in a recent series of tweets. "Also, Republicans will always support Pre-Existing Conditions. The Republican Party will be known as the Party of Great HealtCare. Meantime, the USA is doing better than ever & is respected again!"
What is it? Define it. I want to see more than just words and Tweets boasting of what is to come … AFTER the 2020 election. It was supposed to be after the 2016 election that this fix happened. Republicans could not agree among themselves when they controlled both chambers and the White House.
More time may not improve those circumstances. And what will come of legal challenges?
I suppose if the law is overturned before the election, Trump can claim he made good on his initial campaign promises. If it is upheld — as it has been in previous Supreme Court challenges — Trump can blame the court.
Obamacare's passage was a partisan issue. Remember back in December 2009? The Senate voted 60 to 39 for Obamacare. The Washington Post reported "The Senate bill passed without a single GOP vote."
In March 2010, the House voted 219 to 212 for Obamacare. Thirty-four House Democrats and all of the House Republicans voted against Obamacare. The NO votes were the only bipartisan votes. President Barack Obama signed the law on March 23, 2010.
And it has been railed against ever since. Nine years have passed and no better plan is on the table.
When talk of repealing and replacing Obamacare began in 2017, news organizations honed in a health benefits received by members of Congress.
Multiple reports indicated that members of Congress and staff have the gold Obamacare option and "pay approximately 28 percent of their annual healthcare premiums through pre-tax payroll deductions."
They also have access to "free or low-cost care" through the Office of the Attending Physician as well as "free medical outpatient care at military facilities" in the Washington, D.C. area.
I don't know about you, but there are no free options for services in my private insurance plan.
The folks in Washington have their gold plan — and as long as they do, they won't worry terribly about yours. That's the bottom line.
The citizens can wait … And wait.
(Shea Wilson is the former managing editor of the El Dorado News-Times. Email her at [email protected] Follow her on Twitter.com @sheawilson7.)
Sponsor Content
Comments