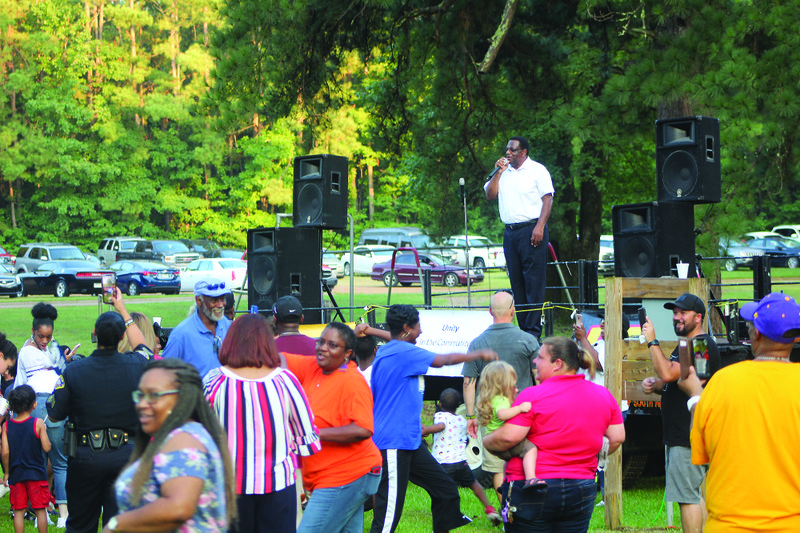 - Photo by Patric Flannigan
CAMDEN — Even after heavy rain entered the area Tuesday afternoon, "Unity" could not be denied.
Unity in the Community's Annual National Night Out event went on without a hitch Tuesday and drew a large crowd of area residents.
The event featured a variety of activities and fun items including a bounce house and other activities and games, along with giveaways of 'door prizes.'
Business and organizations around Camden participated in the event. Lockheed Martin was on hand to provided hot dogs, chips and drinks. The Camden Police Department played basketball with area children while the Camden Fire Department gave tours of its smoke house trailer and gave out fire hats. CPD and Camden Public Works Director Shamir Dorsey gave out rides to children through the park on side-by-side ATVs.
Several local churches supported the event. Grace Baptist Church provided face paint while Freedom Church handed out free sno cones. New Haven Baptist Church and Puppet Ministry along with Greater St. Paul's "The CREW" performed during the event. Bishop Chester Thompson invited the park to participate in what he called "the worlds biggest" chicken dance routine.
Donna Lentz, Louise Hunter and Lorna Miller each performed inspirational songs while local fitness enthusiast Kem Johnson led attendees in a Zumba exercise. No Limit Riders Motorcycle Club member Jeff Herndon gave information on motorcycle safety and a team of children defeated the CPD in the annual NNO Tug of War competitions.
The Plant A Seed Foundation gave out free school supplies to children and organizations such as The Women's Crisis Center, Alpha Kappa Alpha, Impact Camden and SAU Tech set up information boots.
Elected officials including Camden Mayor Julian Lott, Ouachita County Judge Robert "Robbie" McAdoo, Sen. Trent Garner, and Alderman James Bell were in attendance.
Janice Davis White, Matt Stone and Rashel Williams all served as emcees for the event and thanked all of the sponsors and groups that played a part in organizing the event.
Sponsor Content
Comments