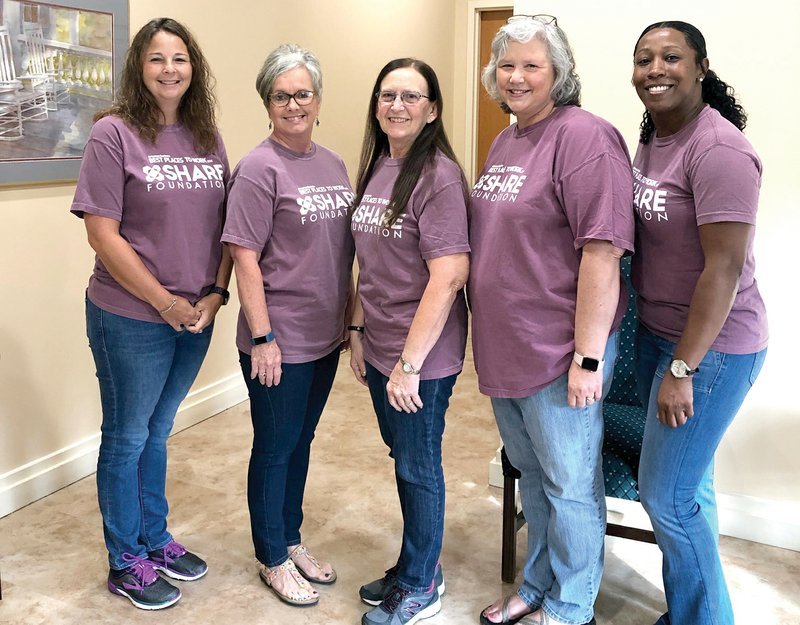 SHARE Foundation SHARE Foundation employees gathered last Tuesday to celebrate the non-profit's recognition as one of the best workplaces in Arkansas. Employees were treated to a free lunch from Kernal Mustard's Hot Dog Cart & Catering, cake and ice cream and a t-shirt commemorating the recognition. Pictured here, from left to right, are Jenifer McLelland, executive director of Life Touch Hospice; Debbie Watts, vice president of community impact; Betty Dowty, receptionist; Heather McGarity, human resource manager; and Andreka Curley, human resource assistant.
CAMDEN — The SHARE Foundation received recognition from Arkansas Business magazine recently, being named among the top workplaces in the state among 45 other local companies.
"It was quite a surprise. We did not do this to win a prize; part of our strategic plan was to find some benchmarks for our employees. We wanted to survey our employees and see how we compared and see if there were areas we needed to make improvements in," said Brian Jones, executive director of the SHARE Foundation.
"We did not even think about winning, so that was really, really cool."
To qualify, SHARE Foundation employees across the organization's many agencies, which include Interfaith Clinic, Life Touch Hospice and HealthWorks Fitness Center, among others, answered a survey about workplace culture, safety, management, benefits and other topics related to job satisfaction.
"It ran the gamut. It was several questions, I can't remember how many," Jones said. "We all took it; I took it, as an employee. We were not able to coach anybody; there were very strict guidelines."
The non-profit's scores ended up being high enough to rank the SHARE Foundation among the best workplaces in Arkansas. The Medical Center of South Arkansas was also recognized by the magazine as a top workplace.
Jones said the SHARE Foundation works to have competitive benefits and ensure their employees receive a living wage. However, it's not just the benefits that draw people to work at the SHARE Foundation; it's also their vision-driven mission to improve the lives of Union County residents.
"People that work at Hospice, or if they work at Interfaith, or HealthWorks, our chaplaincy program — we want to pay our people a living wage; we want them to be taken care of and to support them, but people come here because they believe in what we do," Jones said.
"That we make a difference in the community. It's hard to put a dollar amount on that."
Once survey results do come in, Jones said he and the employees and Board of Directors will use employee feedback to continue to improve the SHARE Foundation. Jones said he wants the organization to be an 'employer of choice.'
Sponsor Content
Comments