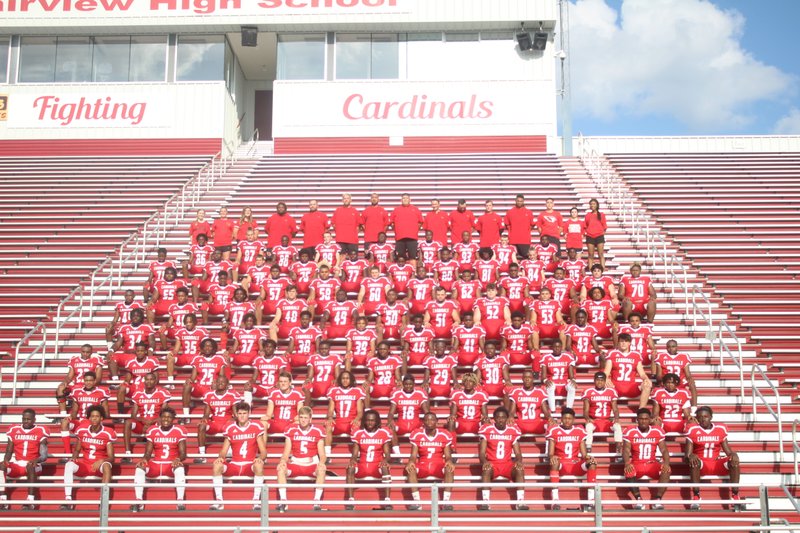 CAMDEN — The Camden Fairview Cardinals 28-7 benefit game over the Monticello Billies was full of ups and downs. However, the Cardinals will have to wait to find out an unknown after an injury early in the game.
Starting quarterback, junior Gunner Branch went down with a leg injury when another player fell under him after completing a pass down field. Branch, being one of the toughest players on the team, stayed on the trainer's table on the sidelines for the duration of the games to encourage his team.
Branch was set to undergo an MRI on Wednesday to determine the exact extent of the injury.
The Cardinals opened the game perfectly. Kyron Kidd and Peyton Byrd had come up with big stops on the first three downs to force a pass on third that Eric Albert intercepted for the Cardinals.
Two plays later, Erik Hall scored on a 30 yard touchdown run. William Boniello would kick his first of four successful extra points on the night to give the Cardinals the lead with 9 minutes left in the first.
On the Billies second possession, they were able to power the ball down field for a touchdown behind using a two-back formation and misdirection before Kendrick Anderson was able to score.
The ensuing kick was good tying the game up with about four minutes remaining in the first quarter.
The Cardinals would pick up bulk yardage but penalties would ultimately stall the Cardinal next couple of offensive possessions.
Sophomore Quarterback Logan Robertson would ultimately lead the Cardinals down the field and run it in from two yards out to give the Cardinal the lead again before the half.
Boniello's extra point was good.
In the second half, the teams played two, 12-minute quarters with a running clock. C.F.'s second offense got in the game in the third quarter and C.F. was able to score a couple of more touchdowns to seal the win.
Javien Clemmer, Dashaire Ford-Burton, Jaden Bates and Troy Butler all had receptions during the game. Erik Hall accounted for two rushing touchdowns - one in the first quarter and another in the fourth, while Robertson and Reshard Clary rushed for a touchdown each.
Kevin Tate - who suffered a season-ending injury last season - looked healthy and rushed for more than 50 yards in limited touches and Patrick Rucks was hard to bring down all night moving the pile on multiple rushes. Brandon Copeland, JaCoriae Brown and Clary all showed flashes in the backfield.
Jacobie Williams, Austin Stone, Quinn Green and Erick Gates had good nights on the defensive side.
The Cardinals will have a break before hosting the El Dorado Wildcats on Sept. 5 at 7:30 p.m.
Sponsor Content
Comments