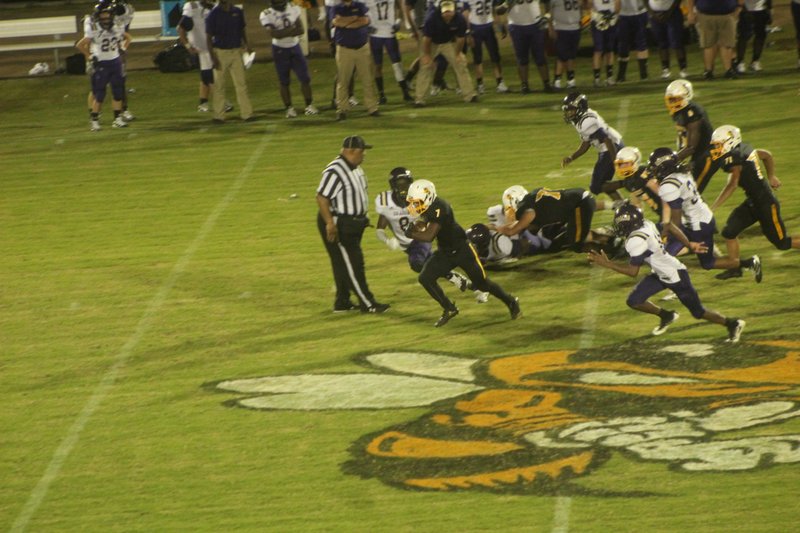 - Photo by Patric Flannigan
CAMDEN — By PATRIC FLANNIGAN
Sports editor
Tonight might have wrapped up Week 0, but for Ouachita County teams the biggest number on their minds is "1."
Harmony Grove and Bearden were both able to go 1-0 on the night as both teams won its Week 0 games.
The Harmony Grove Hornets defeated the Junction City for the first time in over ten year, 30-26, and the Bearden Bears defeated Lafayette County 22-8.
Bearden junior Kendrick Juniel found the end zone twice, once on a rushing touchdown and another on a bad punt snap that he recovered, and senior Bear Jalen Wade added another rushing touchdown.
The game was called with 4 minutes left in the third due to lightening.
The Hornets led the majority of its game against Junction City but found themselves down 20-14 with seven minutes left in the fourth. The Hornets would get big plays on defense from Jeremie Edwards and Daniel Hill before Damion Daniel tied the game on a 20 yard run. After Hill recovered a Junction City fumble, Mecca Arnold scored on a 57 yard touchdown with a 1:40 seconds left in the game. Hill then ran in the two-point conversion.
J.C. would score later but the two point conversion was broken up and the ensuing onside kick was recovered by Zach Smith to seal the game.
More details and statistics will be available online on Monday and a preview for Week 1 - including the Hornets vs. the Bears - will be in Wednesday's paper.
Sponsor Content
Comments