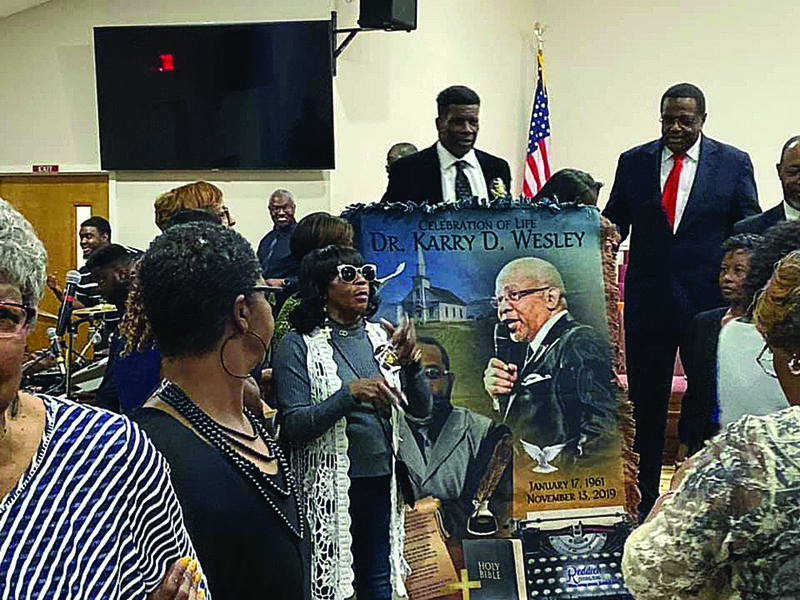 CAMDEN — By PATRIC FLANNIGAN
Staff writer
Camden native and founder of a mega church in Dallas, Dr. Karry D. Wesley, 58, passed away on Nov. 13 just a day after notifying his church that his cancer had returned.
Wesley and his wife, Cheryl accepted the call as pastor and first lady of Antioch Fellowship Missionary Baptist Church in Dallas in the early '80s. His journey began in Camden when he preached his first sermon at the age of 15 at Zion Hill Baptist Church. He studied religion and psychology at Bishop College in Dallas and received his BA in 1984. Two years later, he met with other students about Christian hardships and partnered with them. Within a month, those worship experienced led to a unanimous decision to officially organize a church. The membership grew from 500 to 1,000 in two years on the campus but now has a membership of over 6,000 and has its own 84,000 square foot facilit and 60 active ministries in the Dallas and Fort Worth area.
Wesley was the son of Henry and Annie Wesley and was born in Camden in 1961 one of eight sibling; Calvin Wesley, Doris Easter, Christopher Wesley, the Rev. Roy L. Wesley, Allen D. Wesley, Paul D Wesley, Col. Jennifer D. Wesley and Lashawn Wesley Ashton. He obtained a Master of Divinity from Brite Divinity School at Texas Christian University in Fort Worth. He was also the first African American doctoral candidate at Phoenix Seminary in Arizona where he received a Doctorate of Ministry. Wesley was an active member of the Alpha Phi Alpha Fraternity, Inc.
During his time in the ministry, Wesley wrote over 10 books – one he co-authored with his wife – that focused on Christianity, marriage and biblical studies.
Wesley and his wife have three sons, two daughter-in-laws and three grandchildren, namely, Christopher (Skylan), Karl (Jasmine) and Charles, and grandchildren, Kamden, Karter and Kyrin.
A memorial service was held at Zion Hill on Wednesday night.
Sponsor Content
Comments