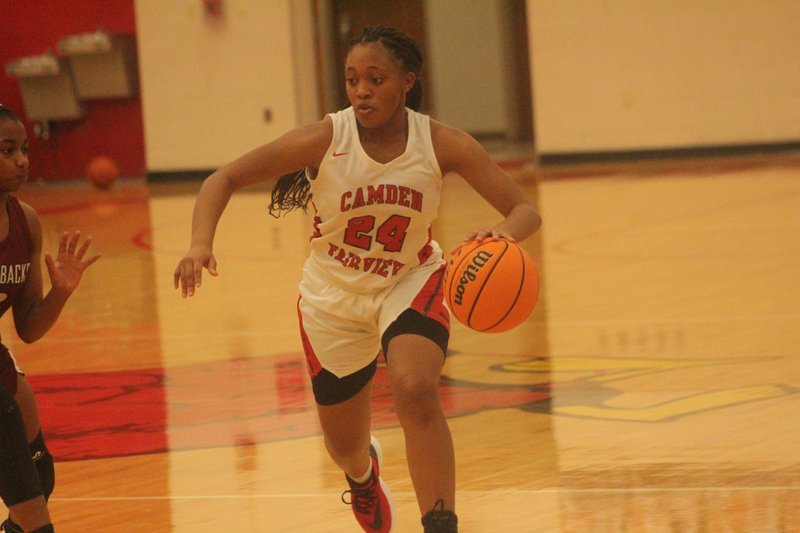 - Photo by Patric Flannigan
CAMDEN — The 27th annual Camden Fairview Holiday Classic will begin on Friday. The price of admission is $7. Below is a breakdown of this year's first round match ups.
• Little Rock Christian Academy Lady Warriors vs. Bearden Lady Bears (10 a.m.) - The tournament begins with two scrappy teams led by veteran head coaches. LRCA is 7-2 on the season and is entering the game after losing 48-44 at home to Cabot last week. The Lady Warriors are coached by former CF head girls basketball coach Ronald Rogers who led the Lady Cardinal program to back-to-back 5A state titles in 2007 and 2008. Rogers' daughter, Wynter (6'0"), is one of the team's top college prospects. LRCA is averaging 55 points per game and have an average win margin of 18 points. They will also be one of the tallest teams in the girl's bracket with three players standing at least 6'0". This will be the first appearance for the Lady Warriors in the Holiday Classic.
The Lady Bears are coached by Roy Murray and are 6-3 on the season. Bearden is on a three-game winning streak and is averaging 44 points per game behind the play of sharp shooters Taylor Hall and Latreese Wright. The Lady Bears also have impressive wins over teams from bigger conferences such as Malvern and Rison. Bearden also played a one-loss Magnolia team down to the wire before losing 49-40 in its first game of the season.
• Nevada Blue Jays vs. Bearden Bears (11:30 a.m.) - The Nevada Blue Jays (11-2) are the defending Holiday Classic Champions and are coached by Bobby Mullins. Mullins has become a tournament favorite for fans with his enthusiastic approach to motivating his players. Last year, the Blue Jays finished as 1A State Runner Ups without much senior representation on its team. The Blue Jays also own bragging rights over county rivals and defending 5A State Champions in Magnolia – a team Nevada defeated twice in 2018. The Blue Jays are averaging 66 points per game and have eclipsed the 80 point mark in three games this season. The Blue Jays are led by guard Keyonte Coleman.
The Bears (6-1) have become familiar faces in the Holiday Classic and are under the leadership Paul Hall in his first year at the school. Hall is the son of Arkansas Hall of Fame coach Melba Hall who coached for 34 years in Prescott, Hope and Chidester. Bearden loss to 2019 Classic participant McGehee earlier this year, 63-53. The Bears are led by Kendrick Juniel and Jalen Wade.
• Emerson Lady Pirates vs. Warren Lady Lumberjacks (1 p.m.) - Emerson is 14-1 on the season and is the best offensive team statistically averaging 72 points per game. The team is coached by Bo Hicks and hasn't lost since November. While Emerson's wins have come against teams from smaller divisions, it opened conference play with a 60-10 win over Taylor. Emerson also has victories over Dermott, Bradly and Strong on the season.
Warren (3-4) is averaging 47 points per game and is coached by Leon Harris in his first year with the school. Its former coach, Jae Kell, is now leading the El Dorado Lady Wildcats. Warren played in the Classic title game last year and took CF to overtime before losing. Warren is led by 5'11" senior Faith Jackson. Jackson made the Classic's all tournament team in 2018.
• Marion Patriots vs. El Dorado Wildcats (2:30 p.m.) - Marion (2-6) is a dark horse to win the Holiday Classic. The Patriots are the defending 6A State Champions and are coached by David Clark. The athletic director for the Marion School District is former CF Boys Basketball coach Derek Harrell. While Marion's record doesn't look impressive, its important to note that the team's losses have come against schools from the states of Nevada, California, Maryland and Texas in tournament play. Marion's one in-state loss was against North Little Rock in the second game of the season. The Patriots are the tallest team in the tournament with 12 players tower 6'0" or higher including a 6'10" sophomore. Marion is averaging 64 points per game.
El Dorado (2-4) makes its return to the classic after a 4 year hiatus and has the second most CF Holiday Classic titles in its 27-year history. It's four Holiday Classic wins are second to CF's 10. Ironically, this year El Dorado's only two wins have come against the Cardinals but only by an average margin of 6 points. El Dorado is coached by Gary Simmons and is led by Simmons' son and three-point threat, Brendan.
• Magnolia Lady Panthers vs. El Dorado Lady Wildcats (4 p.m.) - The Magnolia Lady Panthers (4-1) are coached by former CF Head Boys Basketball Coach Donnell Ford. Ford's squad has been competitive in the Classic since he arrived to Magnolia. The Lady Panthers already own a win over the Lady Wildcats on the season.
The Lady Wildcats (2-8) are coached by Jae Kell who brought an impressive resume over to El Dorado from her years at Warren. El Dorado won its first two games but have been on a losing streak since. Still, the Lady Wildcats average 43 points per game and are a physical team on defense.
• Magnolia Panthers vs. Harmony Grove (5:30 p.m.) - The Magnolia Panther (5-0) are the defending 4A State Champions. They are coached by Ben Lindsey in his first year. The Panthers won the Holiday Classic in 2017 and were bounced in the second round by eventual Holiday Classic Champions Nevada in 2018. Magnolia is playing a more uptempo style this year and is averaging 58 points per game. Its closest game was against Ashdown when the team won 47-46 after clutch free throws by sophomore college prospect Derrian Ford.
Chris Clinton has his Harmony Grove Hornets (3-2) playing at a decent level in his first year at the helm. The Hornets are one of the best offensive teams in the tournament scoring 69 points per game. Antwoin Edwards has two double doubles on the season.
• Camden Fairview Lady Cardinals vs. Hot Springs Lady Trojans (7 p.m.) - The Lady Cardinals (4-4) enter the Classics as the defending tournament champions. CF Head Girls Basketball Coach Johnny Jackson has his team on a two-game winning streak and averaging 43 points per game. The Lady Cardinals have been exceptional on defense with its pressure and forcing turnovers. Tamia Dandridge, Takari Glover and Jhiya Jefferson (three double-doubles on the season) are key to the CF attack on offense. CF turned a 50-37 loss to Arkansas High into 50-41 win against the same team just 10 days later.
Hot Springs (3-3) has been a top team in the 5A division form several year and have a state title to prove it. The Lady Trojans are coached by Joshua Smith and are averaging 42 points per game.
• Camden Fairview Cardinals vs. McGehee Owls (8:30 p.m.) - The Camden Fairview Cardinals are 2-6 on the season but are averaging an impressive 57 points per game. CF Head Boys Basketball coach Josh Nix's squad has improved throughout the season despite only returning one starter from last year's team in Dashaire-Ford Burton. CF's Christian "Wahn" Strahan has been the most consisting player for the team and will enter the first round of the tournament coming off of a 29 point game against Arkansas High. The Cardinals will be looking for its first win since Dec. 11.
McGehee is 3-4 and coached by Xavier Diamond. The Owls are averaging 59 points per game. McGehee is long and athletic with four players that standing over 6'3". McGehee also owns a victory over 2019 Classic tournament participant Bearden.
Sponsor Content
Comments