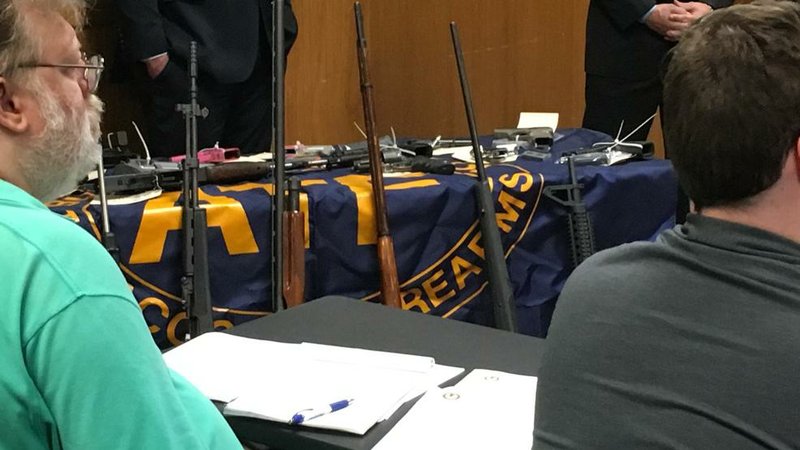 CAMDEN — By DEBRA HALE-SHELOTN
Arkansas Democrat-Gazette
RUSSELLVILLE -- The New Aryan Empire, an Arkansas-based white supremacist group, has committed attempted murder, kidnapping and maiming in support of its organization and drug-trafficking operation, federal prosecutors said Tuesday in announcing the indictment of 54 of the group's roughly 5,000 members.
The indictment resulted from an investigation dubbed To The Dirt, which began in 2016 when federal authorities assisted the Pope County sheriff's office in a murder case involving members of the supremacist group that began as a prison gang in 1990 and has since expanded outside the prison and to neighboring communities and states.
The superseding indictment, returned Feb. 5 and publicly released Tuesday, follows the U.S. attorney's office announcement in 2017 that it had indicted 70 people in the same operation on drug-trafficking and firearms charges.
The new, superseding indictment charges 17 of the 54 defendants with crimes under the Racketeer Influenced and Corrupt Organizations Act, and the Violent Crimes in Aid of Racketeering statute.
U.S. Attorney Cody Hiland said the indictment represents "the first RICO / VICAR case brought in 15 years. RICO focuses specifically on racketeering and allows members of the organization to be held responsible for the acts of the other members," Hiland said at a news conference with other federal, state and local law enforcement representatives.
"It's a powerful tool that we will not wait ... another 15 years to utilize both for violent crimes and for public corruption" in white-collar cases, Hiland said. "There'll be more in the coming weeks and months, and it's going to be a tool we rely on significantly as we move forward."
Assistant U.S. Attorney General Brian A. Benczkowski said the New Aryan Empire associates stand accused of maintaining "their criminal enterprise by engaging in multiple acts of violence - including kidnapping and attempting to murder one informant, and stabbing and maiming two others suspected of cooperating with law enforcement."
An inmate at the Pope County jail in Russellville founded the New Aryan Empire, which Deputy U.S. Assistant Attorney General David Rybicki described as "a violent and highly structured criminal enterprise" associated with other white supremacist groups.
Rybicki called the New Aryan Empire "reprehensible" for its Nazi-like views and said "one particular chilling" allegation involved the maiming of a suspected informant's face with a knife.
The term "To The Dirt" refers to the New Aryan Empire's slogan referring to a rule that members must remain in the group until they die, Hiland's office said in a news release. Thirty-five of the 54 defendants, most of whom are residents of Pope and Yell counties, were in state or federal custody as of Tuesday afternoon; three were being arraigned in federal court; and 16 were previously released on bail.
"NAE uses its power to create fear and intimidation that shields its members from criminal responsibility, ensures the timely payment of drug debts, and prevents the theft of members' money or drugs," the indictment says.
Sponsor Content
Comments