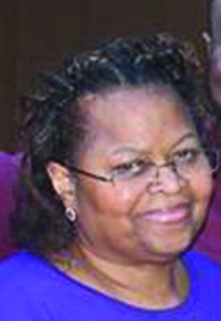 CAMDEN — Name: Wanda Flannigan
Town: Camden
Birthday: Oct. 7
Occupation: Retired from teaching after illness (22 years)
Family: Seven children, including my two daughters-in-law; one son-in-law; four grandchildren; and two great grandchildren.
Community activities: Mission secretary at Whitest Chapel Baptist Church, and calling to encourage people who are sick - that's my ministry.

Favorite hobbies/past times: Spending time with my grandchildren.
I drive a: Buick Rendezvous, but I don't drive anymore. My children spoil me.
The last book I read was: First Timothy in the bible.
My favorite comedian is: Steve Harvey
My favorite type of music is: Gospel
The last concert I attended was: Al Green at UAPB. He was performing in town that night and visited the school and started singing. The security had to drag him out because the students were trying to get to him.
My favorite actor is: Tyler Perry
My favorite all-time movie is: "A Question of Faith"
My favorite cartoon is: "The Flintstones."
My all-time favorite television show is: "The Jeffersons"
My favorite historical figure is: Dr. Martin Luther King Jr.
My favorite restaurant is: What's Cookin
My favorite junk food is: Popcorn
I absolutely will not eat: Chitterlings
My teenage crush was: Marvin Gaye
My heroes are: My friends and family that always puts up with me. I love them and they love me.
My favorite sport is: Basketball
My favorite team is: Whatever team Kawhi Leonard plays for. So this year, it's The Clippers
My favorite item of clothing: A blue dress from my sister-in-law.
You'll never catch me wearing: High heels
You'll never catch me without: A prayer in my heart
My favorite vacation spot is: Dallas
If I could travel to any place in the world free of cost, it would be: Hawaii
My pet peeve is: 18 wheelers merging onto the highway. I can't stand it.
When I'm nervous I: Start rocking back and forth
If I've learned anything in life, it's: The Lord will always make a way
The best advice I've ever been given is: My father told me a long time ago to get my education and to never be dependent on anyone. Back then people would graduate high school and stop.
If there's one thing I won't do, it's: Give up
My best trait is: My sense of humor
Sponsor Content
Comments