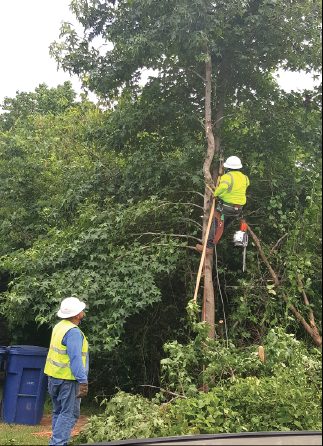 CAMDEN — Last week's storms caused damage to many homes and trees in Ouachita County. Due to the damage, many homeowners may be searching for contractors to make repairs on their homes, or to clean up debris left behind by the storms.
While many contractors are legitimate, some operate under false pretenses and can do more harm than good.
Attorney General Rutledge released the following tips that homeowners should consider before hiring a contractor:
• Think twice before hiring out-of-town or unknown contractors, especially those soliciting door-to-door.
• Question contractors who use terms like "special introductory offer," "limited-time offer" or those who offer discounts to use your house as a "model home."
• Do not fall for high-pressure tactics from contractors who want to discuss the price of the job later.
• Beware of those demanding payment in full before work is finished.
Arkansans should also insist on a written contract or agreement that includes the name, address and telephone number of the contractor and consider a payment plan that pays for a third of the work up front, a third to be paid while work is being done and the final third upon completion.
Consumers should also know that the Arkansas Home Solicitation Sales Act allows consumers to cancel any home-solicitation sale made within three days of purchase of the item or service.
Any contractor building, repairing or doing improvements to a home costing more than $2,000 is required to be licensed by the Arkansas Contractors Licensing Board. Contact the board at ACLB.Arkansas.gov or (501) 372-4661 to verify a contractor's license, the date it was issued and whether any complaints have been filed against that contractor. Ask for recommendations from people you trust.
Sponsor Content
Comments