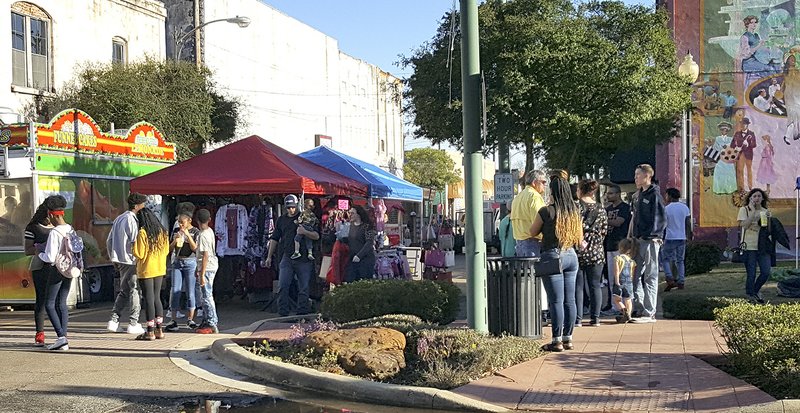 CAMDEN — By TAMMY FRAZIER
Managing editor
Organizers and volunteers of the 26th Annual Camden Daffodil Festival are getting lots of positive feedback about the event, despite the stormy weather that put a 'damper' on day two of the festival.
"I heard nothing but great reviews and people saying this was the best Daffodil Festival they have been to," Kenneth Meeks shared in an email.
And Daffodil Committee Chairperson Emily Jordan-Robertson stated:
"First of all, GREAT JOB to everyone receiving this email and beyond! Mother nature dished us a few lemons and we made some amazing lemonade! I know a couple of years of experience at the helm helped me tremendously!

"We knew going into the weekend the forecast didn't look very promising and we all had a plan for what we were going to do. It humbles me, yet again, the effort that so many folks put forth and it is just awesome what we can do as team when we have a plan and a common goal!

"I had some guest in from Oklahoma and Louisiana, so I took the opportunity to be their guide for many of the tours and much of the festival. I got to see it from their perspective!

"We did an outstanding job entertaining both a 10 year old and up to 60 something within the same group. I big 'something' to be said about that!
" I don't have any preliminary numbers just yet dollar wise, but I call this weekend the best yet!

"Congratulations to all on a job well done. Stay tuned for a scheduled wrap up meeting and best of all "Thank You" party!"
The Daffodil Festival offered something for everyone and, after the rainstorms dissipated, people attended the event in droves.
Winners of the Daffodil Festival's Steak Cook-off can be found in the article below.
For more photos of the 2019 Daffodil Festival, visit our Facebook page.
Sponsor Content
Comments