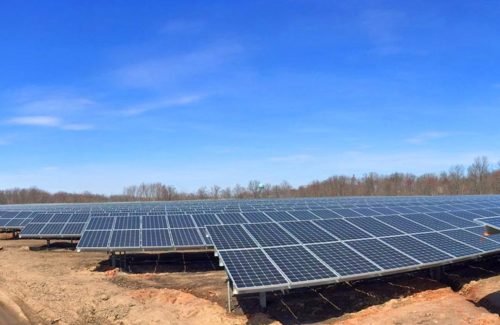 - Photo by Via Google images
CAMDEN — By BRADLY GILL
Staff writer
According to Arkansas Advanced Energy Association, Arkansas has recorded the largest annual increase in the number of net metering systems ever, adding to recent reports of strong growth within the state's solar economic sector.
Recently the Ouachita County and the city of Camden have taken steps to enter into an agreement with Scenic Hill Solar, LLC to construct a solar farm and purchase power from the farm.
Ouachita County Judge Robert McAdoo said the farm would allow $2.2 million in savings for Ouachita County, a $4.7 million savings for our hospital, a $6.7 million of savings for the water-treatment plant, and then about $2.5 million savings for the city.
Camden Mayor Julian Lott said, "We were put in a position where Entergy wanted to enter in and give a bidding, but they're not particularly ready at this time. We went with Scenic Hill. We started out with a 28 year plan, the 28 year plan is now down to 20. The city of Camden as well as Camden Water and Utilities have already signed the agreement. We also have the option to buy out and two additional options to renew.
"We will be reducing electricity prices, we have a long-term hedge against future electricity prices because we have a set rate, so we can set our budget knowing just about what it's going to cost each year and the accomplishment of their sustainability we can have some goals we can set and we can reach those goals a little bit better.
"The water utility uses lots and lots and lots of electricity, so that is going to be really important to help us with savings and those savings can be poured back into the community."
Scenic Hills website states, "In December 2017, Scenic Hill Solar completed construction on a 6.5 megawatt solar power plant in Clarksville, Arkansas.
The solar power plant is the largest solar power plant for a municipal utility in Arkansas, and supplies about 25% of the utility's residential load.
Over 30 years, the power plant will produce over 306,000,000 kWh. The environmental impact is equivalent to:
• Removing over 540,000,000 miles driven by an average passenger vehicle
• Planting over 5.7 million trees
Bill Halter, CEO of Scenic Hill Solar, has led business and government organizations in Arkansas and Washington, DC having served as Lieutenant Governor of Arkansas, Chief Operating Officer of the Social Security Administration, in the White House Budget Office, as a Trustee of Stanford University and on the Board of Directors of twelve technology companies (five of which were public companies with a market capitalization of over $20 billion).
Southern Arkansas University Tech (SAU Tech) is collaborating with Today's Power Inc. (TPI) to build a 1-megawatt solar facility that will provide approximately 70 percent of the College's electrical energy needs.
This 10-acre project is a single-axis tracking technology of approximately 3,344 panels will be located near Holly Springs, AR and should be sustainable for 20 to 25 years, providing a fixed price for a portion of electricity during this time span. The savings from the project will be used by SAU Tech to continue to grow the College and support its students.
Arkansas Electric Community Co op Array.
The 12 megawatt (AC) array is located in the Highland Industrial Park and is owned and operated by Silicon Ranch Corp which constructed the solar field. Aerojet Rocketdyne will purchase the solar power for its 1,200 acre East Camden facility.
The solar plant was completed in late 2015 and is capable of generating enough electricity to power the equivalent of 2,400 single family homes. Excess solar energy is released to AECC and dispatched to the wholesale power market.
One reason solar power is such an attractive alternative in Arkansas is net metering. Net metering is a system in which solar panels or other renewable energy generators are connected to a public-utility power grid and surplus power is transferred onto the grid, allowing customers to offset the cost of power drawn from the utility.
The net excess of power generated by the customer is applied as a credit to the next month's bill; any excess remaining at the end of a 12-month billing cycle reverts to the utility company.
AAEA's review of annual electric utility filings with the Arkansas Public Service Commission found a total of 1,508 net metering systems as of Dec. 31, 2018, a 520-net increase over the end-of-2017 number of 988 systems.
Most systems are solar, with a few solar-wind and wind-only systems.
Sponsor Content
Comments