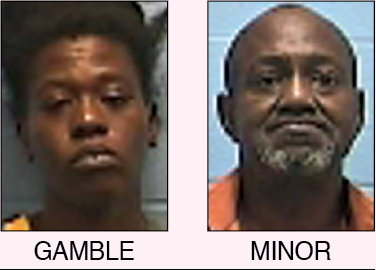 CAMDEN — A Camden woman was given a $10,000 bond on charges of child endangerment and obstructing goverment operations, while a second adult also charged with child endangerment.
Charisma Gamble and Robert Minor are currently both housed in Ouachita County Detention Center.
A police affidavit states that Officer Manning of the Camden Police Department responded to a report of four children being left alone in a residence on Jax street.
Upon arrival the officer met with Robert Minor, who was walking down the street and said he was in charge of the children while their mother
The officer then went inside of the residence with Minor and observed a 1 year old male, 3 year old female, 5 year old female, and 8 year old male to be inside of the home. All of the children appeared to be unkempt, and the one year old was completely unclothed. After entering the home, she detected the smell of feces, and noticed a large amount of flies in the area of the back room and the air conditioning unit in the front room of the residence to be broken.
Minor was found to have valid warrants with an outside agency. Minor was then advised to find clothing for the children so that they could be left in the care of a trusted neighbor. While entering the back portion, she observed one of the children enter a bathroom which housed a large amount of flies and smelled strongly of fecal matter. She observed the bathtub to have feces inside of it and staining on the floor of the bathroom, hallway, and bedrooms which gave the appearance of fecal matter. There was a bedroom with one mattress on the floor. Minor indicated that this is where the children slept.
After entering the kitchen, she observed there to be trash, and unidentified staining on the floors and countertops. Minor advised that the refrigerator did not work at this time. She did not observe any edible food inside of the home at this time and Minor advised that he is unable to store food inside of the home due to the kitchen's condition, and he therefore retrieves fresh food every day. Minor further advised me that there was also no running water inside of the home. When asked where he gets water from, Minor indicated a large, blue bucket which had been sitting on the front steps of the home, used for the purpose of flushing the toilet and bathing.
Gamble was arrested and at the station refused to give information regarding the identity of the children. A Department of Human Services worker was then called to claim the children.
Sponsor Content
Comments