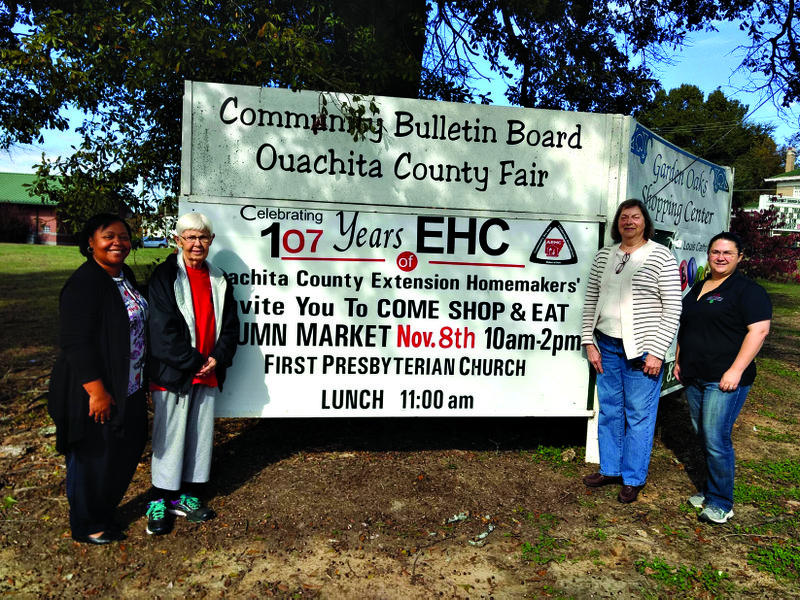 CAMDEN — The Ouachita County Extension Homemaker's (OCEH) invite you to attend their annual
Autumn Market on
Nov. 8, from 10 a.m. to 2 p.m. at First Presbyterian Church located at 313 Greening
St NW.
The Autumn Market, the main fund raiser for OCEH, consist of a meal, shopping,
and a silent auction. The goal is to raise funds for a
$500 scholarship for each school district in Ouachita
County.
Lunch, $15, will be served from 11 a.m. to 2 p.m. This
fee includes a cookbook filled with recipes provided by the OCEH. Leota
Harvey, OCEH president, stated that the lunch will offer a sample of featured recipes in the cookbook. Cookbooks can be purchased separately
for $2.
Although the market has been held for years, the format will change a bit this
year.
"We've been doing this probably 15 years or more, where we serve lunch and have the different vendors," Harvey said. "This time we have invited vendors from the community to sell crafts, nuts, and baked
goods."
To contribute to the scholarships or to join the Ouachita County Extension Homemakers, contact Tonya McKenzie
at 870-231-1160 or [email protected]
"Arkansas Extension Homemakers Council (AEHC) members have made it their mission to empower
individuals and families to improve their lives through
continuing education, leadership development, and community
service," the AEHC website reads. "With a
membership of 4,400 and over 350 clubs, there are many opportunities to get involved at the local
county level. Extension Homemakers, the Cooperative Extension Service,
University of Arkansas, and the United States Department
of Agriculture are partners in providing education to families throughout Arkansas. We work with the University of Arkansas System Division of Agriculture Cooperative Extension
Service."
The Cooperative Extension Service connects trusted research
to the adoption of best practices in Family and Consumer Sciences including: wellness, personal finance and
nutrition.
Sponsor Content
Comments