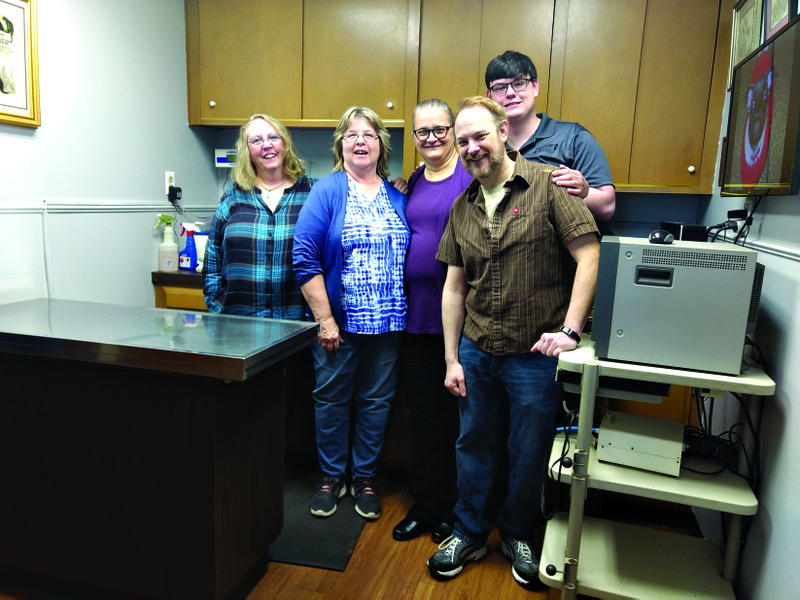 CAMDEN — For 40 years, Dr. Betty Rigby served the Camden area by keeping its four-legged residents healthy. But now, the owner and veterinarian of Maul Road Animal Clinic has retired to take some well-deserved time off and to tend to her garden. Dr. Rigby was sent off Friday, Nov. 1 with a retirement event at her clinic.
"It's been a pleasure to serve Camden for 40 years, but at some point in time, I have to call it quits," Rigby said. "My body says I need to cut it down."
Rigby has been a staple at Maul Road Animal Clinic for as long as many people, and certainly more than a few pets, can remember.
"I graduated in '79, I actually came here at the end of '78 and did preceptorship with Dr. Ricconi for three months," she said. "And then I started working at this clinic and eventually bought it from him."
Rigby knew from a very early age that she wanted to be a vet.
"I grew up out in the country. I was always around animals," she said. "We had a farm. I went to Junior College at Colin in Mississippi. Copiah-Lincoln. It's a little junior college. And then I went to Mississippi State and I got a bachelor's degree in animal science and then I went to Auburn University for veterinary school. "
"I always just liked being around the animals," she added. "I've always been more comfortable around animals than I have people."
Even though she had her heart set on helping animals, the public was not exactly sold on the idea of female veterinarians back then.
"When I first got out of med school it was kind of like 'You're a vet?'" she stated. "No one thought women should be veterinarians. When I got here, there were no female vets in El Dorado, Camden, Magnolia. There were no female vets in the area."
Even her college class was less than eager to accept female vets.
"When I started there was 125 in my starting class in vet school," she said. "There was something like 18 females, now it's totally reversed, they tell me. Now, there are more females going into vet school than males… When I went to school, it was hard for a female to get accepted in. Now, it's pretty much the norm."
Rigby said that Camden has a lot of appeal to her because "it's a small town. It's pretty similar to the area I grew up in. I like to fish and garden. I like to ride horses, or I used to. All that's real available around Camden."
Now that she will have more free time, Rigby said she has some plans for her
retirement.
"I plan on gardening a whole lot more than I do now, which is incredibly a lot anyway," she said. "And I hope to get some traveling in. I'd like to see people I haven't had time to see in years and that kind of
stuff."
She thanked all her customers and patients over the years.
"It's been a pleasure, and I hope I retain the friendship of a lot of them."
Sponsor Content
Comments