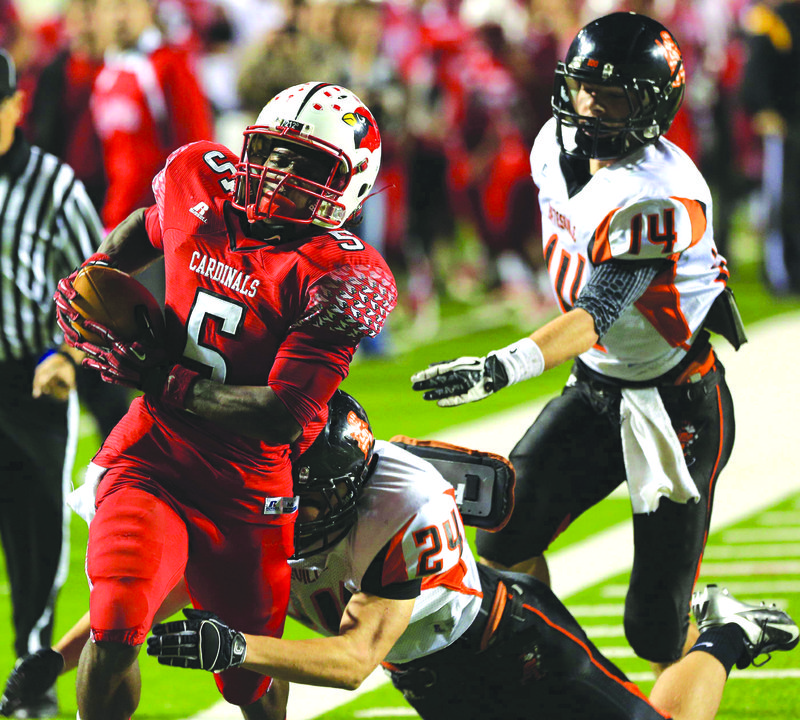 CAMDEN — Camden Fairview graduate, Missouri State University Graduate and former Arizona Hotshots, Deion Holliman is set for the next step in his football career with the XFL Washington D.C. Defenders.
"It's a blessing," Holliman said. "It's been a long process, but you gotta trust it."
While at Missouri State, Holliman received first team All MVSU, led the nation in kickoff returns his junior year and set single season records for the school. He was also earned the through several injuries in throughout his college career. As a student, Holliman earned the MSU Athletic Director's Honor Roll every year with one of the highest GPAs on the team. Holliman's career was just as impressive at CF when he led the Cardinals to a state title his junior season and was an All State performer.
Holliman's time in Arizona was rocky in the beginning when the business aspect of things led to him missing a couple of games. After promising his fans that he would stay working, the Hotshots called him back and he didn't disappoint. Holliman made the most of his opportunities and quickly became one of the leagues most feared return specialist after several eye-catching runs.
But the AAFL would go under with little to no warning.
Admittedly, Holliman shared that he thought about giving up football after the AAFL league came to a hault. He stated that he had signed a three year contract with the Hotshots and that leadership had just informed the team that the league was thriving just before it folded.
The time was especially hard for Holliman who had worked his way back from an injury after a stellar collegiate career. Still, Holliman wasn't ready to give up on his dream.
Holliman said that he worked harder when doubts crept in his mind. Even as he was working in construction, he would still find time to go to the gym and prepares like he was still playing football. The hard work paid off as he will report to mini camp in D.C. on Dec. 3 before going to training camp in Houston to get ready for the first game on Feb. 8.
"Dreams come true," Holliman shared. "I always wanted to hear my name in the draft. It just happened to be in the XFL draft. I'm going to work hard and give it my all. I still want to play in the NFL someday."
Holliman said that he'll use what he learned in Arizona when he goes to D.C. and that he is comforted by the fact he wont be going alone.
"It's different this time around," Holliman shared with the Camden News. "When I went to Arizona, I went alone. This time, three or four of my teammates with the Hotshots are going to playing for the Defenders too. It's good to have that support."
Holliman said that he will be a "sponge" in the XFL because he will be surrounded by former NFL players.
"I'm looking forward to this opportunity," Holliman shared. "There are a lot of guys that have been where I'm trying to go. It's like two or three first round draft picks on the team. Cordale Jones (Ohio State National Title winning quarterback) is one of them. So my whole objective is to learn as much as I can because they have been where I wanna go. I'm one of the only guys that haven't played on that level yet. I'm going to be very observant and competitive and work on being more versatile."
While Holliman has been actively pursuing his career in football, he hasn't forgotten about the place he calls "home." When he wasn't playing in games himself, Holliman was coming to Camden to spend time with family and would even come by to talk with coaches and encourage current CF student athletes. He shared how important it is for him to motivate kids to work for what they want.
"Since I was a kid I wanted to play in the NFL," Holliman explained. "You can be the best in high school and you think it's going to be a smooth road. But it's a million people trying to get to the same place you're trying to go and only one percent gets there. It's about believing in yourself. I've had a lot of days where I wanted to stop, but the only way to fail is if you give up. Work hard, don't blame anybody and always trust God. To the city of Camden and my family, I appreciate all the support. It means more than you will ever know. The games are going to be on ESPN, ABC, so you can tune in there in February. I just want them (Camden) to know that I am very thankful for their support and I love them."
Sponsor Content
Comments