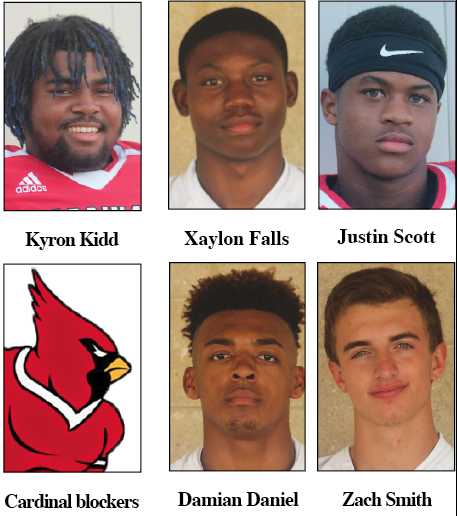 CAMDEN — The Camden News has released its Week 9 Players of the Week.
The "Players of the Week" feature is sponsored by Farmers Bank & Trust.
A combination of statistics, impact and coaches' nominations are taken into consideration to determine the Players of the Week.
This week's Players of the Week consists of three seniors, two junior and a position group from Ouachita County.
Harmony Grove senior running back/WR Xaylon Falls scored three touchdowns in the Hornets 60-32 loss against Prescott last week. Falls scored on a 34 and an 8 yard run from scrimmage and had a 75 yard kickoff return for a touchdown.
HG senior quarter back Zach Smith scored two touchdowns for the Hornets - one on a 15 yard run and another on a 64 yard pass to Jeremie Edwards.
HG Damian Daniel reeled in two big receptions to keep a would be scoring drive alive for the Hornets in the first half of last weeks game.
Camden Fairview's Kyron Kidd was credited 8 tackles, four for losses and three sacks.
Camden Fairview's Justin Scott was nominated by his coach for his high effort plays on special teams. Scott down a critical punt inside the one yard line last week.
Monden nominated his entire Offensive line along with Patrick Rucks and Aiden Cripps for their blocking efforts in the 28-14 win against Hot Springs. The Trojans brought pressure throughout the game but weren't able to come up with a sack.
Honorable mention
CF's Reshard Clardy led the Cardinals in rushing with 86 yards.
H.G.'s Jeramie Edwards scored on a 64 yard touchdown reception.
Sponsor Content
Comments