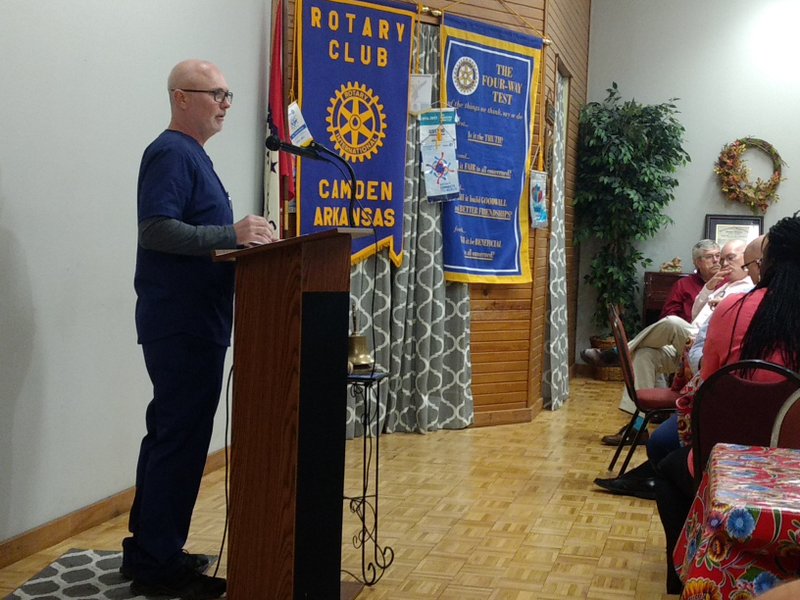 - Photo by Bradly Gill
CAMDEN — John Knight a physician assistant with Access Medical spoke to the Camden Noon Lions Club about geriatric care at the groups Wednesday meeting.
Knight first spoke about Physician Orders for Life Sustaining Treatment or POLST.
"A POLST is an initiative the state has, it's a form.What this form is designed to do is have a conversation and decide what kind of intervention someone wants at the end of life," he said.
According to the Arkansas Department of Health, "High quality and personalized end of life care continues to be a significant challenge in America. The current standard of care during an emergency is for emergency medical services (EMS) to attempt everything possible to attempt to save a life, however, not everyone wants every available treatment. Having a discussion with a physician, and completing a POLST form is one way to ensure that an individual's preferences are respected, recorded, and followed."
Knight said the POLST functions much like an advanced directive, which is a written statement of a person's wishes regarding medical treatment, often including a living will, made to ensure those wishes are carried out should the person be unable to communicate them to a doctor.
However the ADH site also notes, "POLST is not intended to replace an advance directive. In executing a POLST, a patient or the legal representative of the patient when applicable, and the physician shall make a good-faith effort to locate and incorporate treatment preferences documented in a previously executed advance directive. In the event of a conflict between a POLST and an advance directive, the document executed most recently shall take precedence regarding the medical decision or treatment. If the patient filled out an advance directive and a surrogate filled out a POLST Form, the advance directive will take precedence."
Knight said the ADH is working on setting up a database with the POLST forms that can be accessed by medical providers.
Knight also provided a pamphlet from the American Geriatrics Society titled Ten Things Clinicians and Patients Should Question.
The pamphlet said:
• Don't recommend percutaneous feeding tubes in patients with advanced dementia; instead offer oral assisted feeding.
• Don't use antipsychotics as the first choice to treat behavioral and psychological symptoms of dementia.
• Avoid using medications other than metformin to achieve hemoglobin A1c < 7.5% in most older adults; moderate control is generally better.
• Don't use benzodiazepines or other sedative-hypnotics in older adults as first choice for insomnia, agitation or delirium.
• Don't use antimicrobials to treat bacteriuria in older adults unless specific urinary tract symptoms are present.
• Don't prescribe cholinesterase inhibitors for dementia without periodic assessment for perceived cognitive benefits and adverse gastrointestinal effects.
• Don't recommend screening for breast, colorectal, prostate or lung cancer without considering life expectancy and the risks of testing, overdiagnosis and overtreatment.
• Avoid using prescription appetite stimulants or high-calorie supplements for treatment of anorexia or cachexia in older adults; instead, optimize social supports, discontinue medications that may interfere with eating, provide appealing food and feeding assistance, and clarify patient goals and expectations.
• Don't prescribe a medication without conducting a drug regimen review.
• Don't use physical restraints to manage behavioral symptoms of hospitalized older adults with delirium.
Knight said that the way patients have been provided medical care in the past has changed with new information coming to light and an increase in the risk of accidental overdose has lead to less opioid prescriptions for the elderly.
He also said that conventional preventative measures, such as taking aspirin daily, have been challenged and are no longer recommended, specifically because apsirin thins the blood in older individuals.
Sponsor Content
Comments