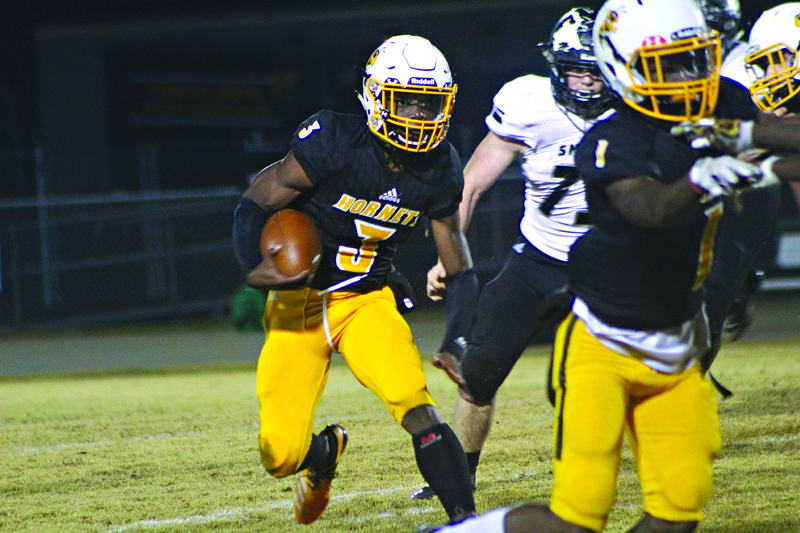 - Photo by Patric Flannigan
CAMDEN — HARMONY GROVE — The seniors shined on Senior Night for the Harmony Grove Hornets during Thursday's 46-7 conference victory over the Smackover Buckaroos at Bill Manning Field. Sixteen seniors were recognized in a pre-game ceremony that also honored senior band members and cheerleaders.
Once the game got started the seniors led the way. RB Xaylon Falls scored the first of his four touchdowns with 9:43 to go in the first quarter on an 8-yard run. The Hornets added the 2-point conversion and led 8-0.
Falls scored again at 10:52 in the second quarter on an 11-yard run. The 2-point attempt failed. Harmony Grove led 14-0.
RB Jeremie Edwards added another touchdown with a 1-yard run with only 17 seconds to go in the first half. Harmony Grove converted on the 2-point try giving the Hornets a 22-0 halftime lead.
The Buc
karoos cut into the lead when Austin Goodwin scored on a 6-yard run with 8:48 to go in the third quarter. The PAT was good. The Hornets led 22-7.
Harmony Grove responded quickly when Falls took the ensuing kick-off about 80 yards for a touchdown with 8:27 to go in the third. The 2-point play succeeded. The home team led 30-7.
Falls caught a touchdown pass for 32 yards from QB Zach Smith with 8:35 left in the game. The Hornets converted the 2-point try, giving them a 38-7 advantage.
The final touchdown of the night was an 8-yard run by Hornet RB Tobias Hicks with 3:01 to go in the game. Harmony Grove converted on the 2 point try setting the final score of 46-7.
Following the game Hornets Head Coach Ernie Horstcamp summed it up best when he said his team played "very well."
The victory brought Harmony Grove's record to 8-2 overall and 6-1 in the 5 AAA Conference. They finished as the number two team out of the conference for the playoffs that begin next Friday night. They will host that game at Bill Manning Field. Kick-off is set for 7 p.m. Admission will be $6.
This year's seniors are: Xaylon Falls, Zach Smith, Daniel Hicks, Chase Stanberry, Jayce Posey, Hunter Garcia, Damion Daniel, Zaxary Ransdell, Kemp Fletcher, Logan Hutchins, Chase Sharp, Devin Berry, Addison Wood, Abraham Mitchell, Dade Turner, and Matthew Ealy.
Sponsor Content
Comments