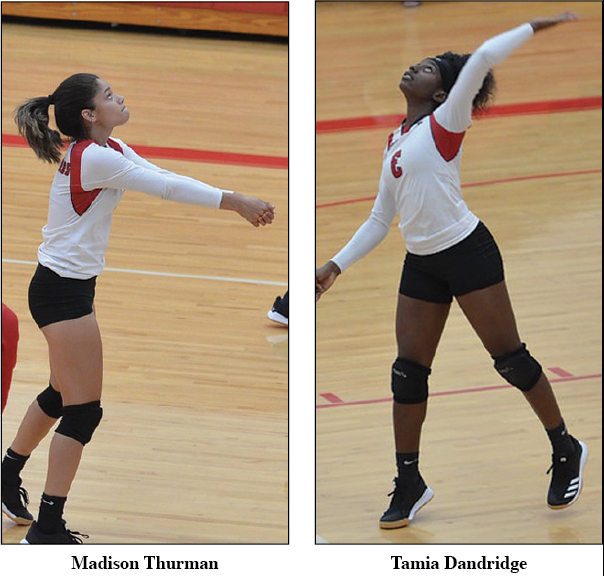 - Photo by Jerry Milner
CAMDEN — Two student athletes from the Camden Fairview Cardinal Volleyball have garnered post season honors.
CF senior Madison Thurman and junior Tamia Dandridge were both named to the All Conference team recently.
Thurman finished the season with 160 kills and 182 digs while Dandridge tallied 115 kills and 234 digs.
"I'm really proud of how hard they worked and how they stepped up this season," CF Lady Cardinal Volleyball Coach Allie Rybiski said. "They were leaders throughout and I'm just really proud of them."
Freshman Lady Cards finish 2nd in district
The CF freshman Lady Cardinal Volleyball team finished as runner ups in the district tournament recently. The Camden News spoke to team captains Hayley Monden and Makayla Griffith about the season.
Monden and Griffith started by praising their coach and their teammates for a good year.
"Last year we would go out there and just have a great time, but this year it felt like we were playing for a championship," Monden said. "Coach Dee (Johnson) taught us that we had to hate to lose more than we loved to win and it worked."
Griffith also talked about how the team learned how to be responsible for each other and show accountability.
"We learned how to not get made but to still know how to give constructive criticism," Griffith shared. "We knew that we had to be focused before we could tell someone else to be."
Monden and Griffith reflected on their "intense" games against Magnolia how much the net players improved during the season. They also talked about the contributions of Carmen Johnson, Arianna Frazier and Alexis Chavez and how they are looking forward to playing at the on the next level next year.
"Those girls (varsity) are more experienced and they can help us get better," Monden said. "So I think our whole team is happy about playing with them next year."
"We played as a family," Griffith said. "We learned about being disciplined. As a team, if we didn't have a 3.3 GPA we all ran. If one of us got in trouble, then we all ran. It was a family concept."
Sponsor Content
Comments