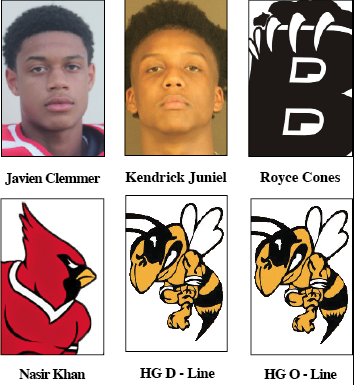 CAMDEN — By PATRIC FLANNIGAN
Sports editor
The Camden News has released its last 9 Players of the Week for the 2019 football season.
The "Players of the Week" feature is sponsored by Farmers Bank & Trust.
A combination of statistics, impact and coaches' nominations are taken into consideration to determine the Players of the Week.
This week's Players of the Week consists of two juniors, two freshman and two position groups from Ouachita County.
Harmony Grove's Offensive and Defensive lines were dominant against Smackover in a 46-7 win at home last week. The offensive line of Abraham Mitchell, Logan Hutchinson, Chase Sharp, Addison Wood and Dade Turner didn't allow a sack during the game. While Turner, Daniel Hicks, Hutchinson, Grant Bearden and committee were able to keep the speedy Smackover backfield in check. Hicks had one of his best games in his career with multiple tackles for losses and disrupted plays.
Camden Fairview junior WR/CB Javien Clemmer was credited with a sack and two tackles but had the play of the game when he recovered a fumble and ran it in for a touchdown.
Camden Fairview freshman kicker Nasir Khan kicked the game winning PAT to help the Cardinals defeat McClellan 13-12 last week.
Bearden junior wide receiver Kendrick Juniel had three big catches for touchdowns in the Bears 30-6 win at Strong last week.
Bearden Freshman Royce Cones had a big reception and also threw a touchdown pass against Strong.
Honorable mention
HG's Xaylon Falls scored four touchdowns, one being a 90 yard kickoff return right after a Smackover score.
CF's Amari Pace led the Cardinals in tackles last week.
Sponsor Content
Comments