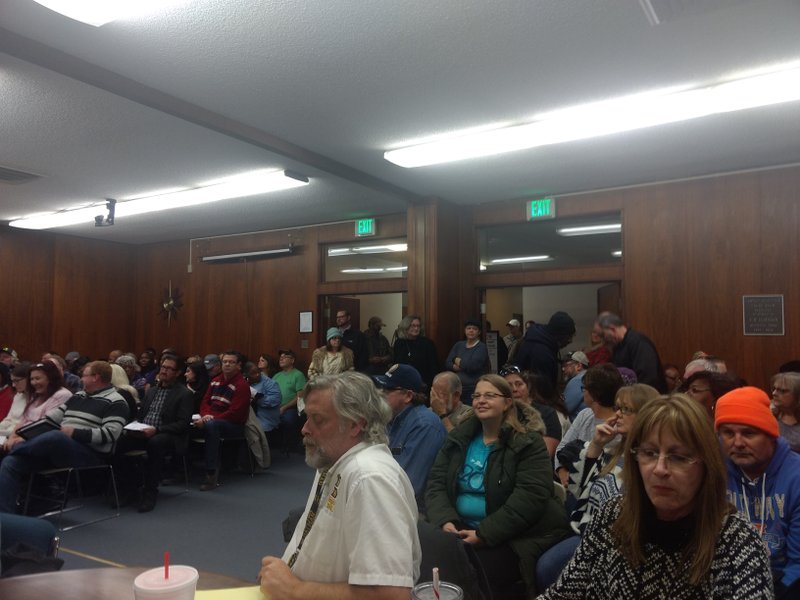 A host of residents of Camden gather before the Camden City Council Board of Aldermen meeting Tuesday night. Camden's long debated ordinance that would have established an entertainment district was withdrawn by Alderman James Bell. - Photo by Bradly Gill
CAMDEN — The ordinance set to establish an entertainment district was withdrawn at last night's city council meeting by the alderman who originally drafted the measure, James Bell.
"I have a feeling most of you our here because of an ordinance I submitted before this council for the establishment of an entertainment district. I've heard a lot over the past few months," Bell said in front of a packed Camden Municipal Building. "Many people were for it and there are many people against it … Many of you know many of the basics, there are certain details that have gotten lost in the conversation; that is my fault for not properly stating what it was meant to be and for not fully communicating what the purpose of it was.
"I've been in conversation with many people and I have decided that tonight I was going to withdraw the ordinance, to be resubmitted at a later date. Pastor Jerry Ables of Victory Church has agreed to collaborate with me on addressing some of the concerns. I look forward to working with Pastor Ables to develop something that everyone in the community can feel safe and secure and enjoy."
Some audience members cheered as Bell made the announcement.
Bell, who is employed by Ables' son Jeremy Ables, owner of JC Production, spoke with the Camden News about rumors circulating that his employment status was used as leverage in order for him to withdraw the ordinance.
"I've heard that rumor and there is no basis to that," he said. "The decision to withdraw that was entirely mine. I had no pressure. None. I am actually at work right now. That is absolutely a basis rumor."
Bell said that the decision to involve Pastor Ables, who is not a member of Bell's district, in the decision-making process stemmed from Victory Church being a part of Camden and that the biggest issue the church had was that its concerns had not been properly addressed.
"I don't feel as a representative of the community that I had given them the opportunity to express that," he said, "Normally I would have just went on to the next month and tried to work it out with them; unfortunately it was the third reading and we were out of time. I didn't feel that it needed to be put for a vote until I had had the opportunity to address those concerns."
Bell said that people have been passionate both for and against the district.
"The question was put forth to me at one point, 'Is this worth it?' Is it worth splitting the town over one ordinance and I don't believe it is," he said. "But I do believe that the idea of this is worth the work and worth the debate, and it's worth having the discussion and the hard talks to get this done. As I stated before, we will be bringing this before the council once we have had the opportunity to work our some of the concerns that people have had and this will be better than before. It's going to be great for Camden. I'm excited to see the possibilities that the entertainment district could bring."
Emily Jordan-Robertson, who owns several downtown properties including Postmaster's Grill, spoke during the public comments portion of the meeting.
"I feel like I got more skin in this game than anyone else in this room. So, I'm for it," she said. "Not necessarily the way it was presented, but I am definitely for it, because I'm for economic development, and what economic development means is more schools and roads and other things that work in our town.
"Any time we can get somebody to stay here on Friday and Saturday night or to come here as a tourist or what have you to spend dollars in our town to put more dollars in our town, to pay our firefighters our it makes the bottom line of any business located in Camden, not just in downtown Camden, any business in Camden more viable and more potential for success. I rehabbed five building downtown. Postmasters Grill being the one that anyone can frequent on any day that we are open. The rest are commercial or residential. I have 17 units. People live in downtown…This is a small progressive pass that we really do need to consider."
Erik Perrin approached the council and said that many of the 20-30 year olds he interviews as part of Lockheed Martin are not living in Camden.
"I sign for tens of thousand of dollars a year in expense reports for people we entertain downtown in restaurants, that number is not escalating, it's dwindling. More and more of our visitors, our customers, our partners, our business teammates are staying in El Dorado," he said.
Manpreet Kang spoke and said the issue was brought before the Planning and Zoning board, so he reached out to communities that had already passed similar ordinances with no problems.
Kang then thanked Chief Boyd Woody for keeping Camden a peaceful place and mentioned that Camden had not seen the political turmoil associated with police violence that the country had experienced in recent years.
Afterwards, a brief recess was taken to allow residents who were there for the entertainment district ordinance to disperse.
In other business:
Resolution No. 38-19, a resolution awarding the bid for the purchase of asphalt and paving for the Public​ Works Street Department.

Resolution No. 39-19, a resolution awarding the bid for the purchase of installing chip seal surfacing for the ​Public Works Street Department.

Resolution No. 40-19, a resolution authorizing the Mayor to enter into a contract with the Arkansas ​Environmental Quality for care of the Class IV Landfill pursuant to Arkansas Code Annotated § 8-6-1603.
All passed unanimously.
Resolution No. 41-19, a resolution providing for and adopting for the City of Camden an annual operating budget, was held over until the December meeting.
Sponsor Content
Comments