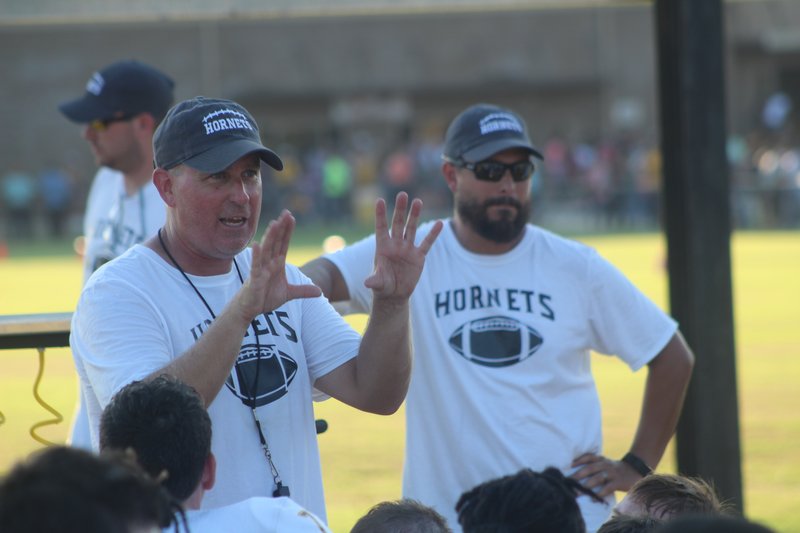 - Photo by Patric Flannigan
CAMDEN — The Harmony Grove Hornets (10-2, 6-1) will travel to face the Wildcats of Rison (11-1, 7-0) on Friday for a chance to advance to the semifinals of the 3A playoffs.
Clay Totty's Wildcats are championship contenders once again after coming up just 9 points short of the title game in 2018. The Wildcats will go into Friday nights game with the best scoring defense in the entire 3A by only giving up 101 points on the season – a feat even more impressive considering that the second best scoring defense in the 3A (Osceola) has allowed 70 more points than Rison.
Rison opened its season with an overtime win over another strong 3A program in Prescott when the two teams met in the Hooten's Kickoff Classic at Southern Arkansas University. However, the Wildcats only loss came the following week against 2A Fordyce, 14-8. Since, the Wildcats have forced six shutouts on the season.
Wildcat running back and outside linebacker Jamarien Frye has been eye-catching with his performance this year. His "6'2, 220 pound frame has made it hard for opposing teams to bring him down and he is a sure tackler on defense.
The Hornets will enter Friday's game after a 40-14 win over a well-coached Clinton team in rainy conditions. H.G. was explosive throughout the night and Daniel Hicks was able to tally three sacks as the Hornet defense was disruptive.
H.G. was victorious the last time it played Rison, wining 42-30 in 2017. The Wildcats won close games against the Hornets prior to that including a 34-26 overtime game in 2016 and a 29-20 win in 2015.
The game will kick off at 7 p.m. in Rison.
Sponsor Content
Comments