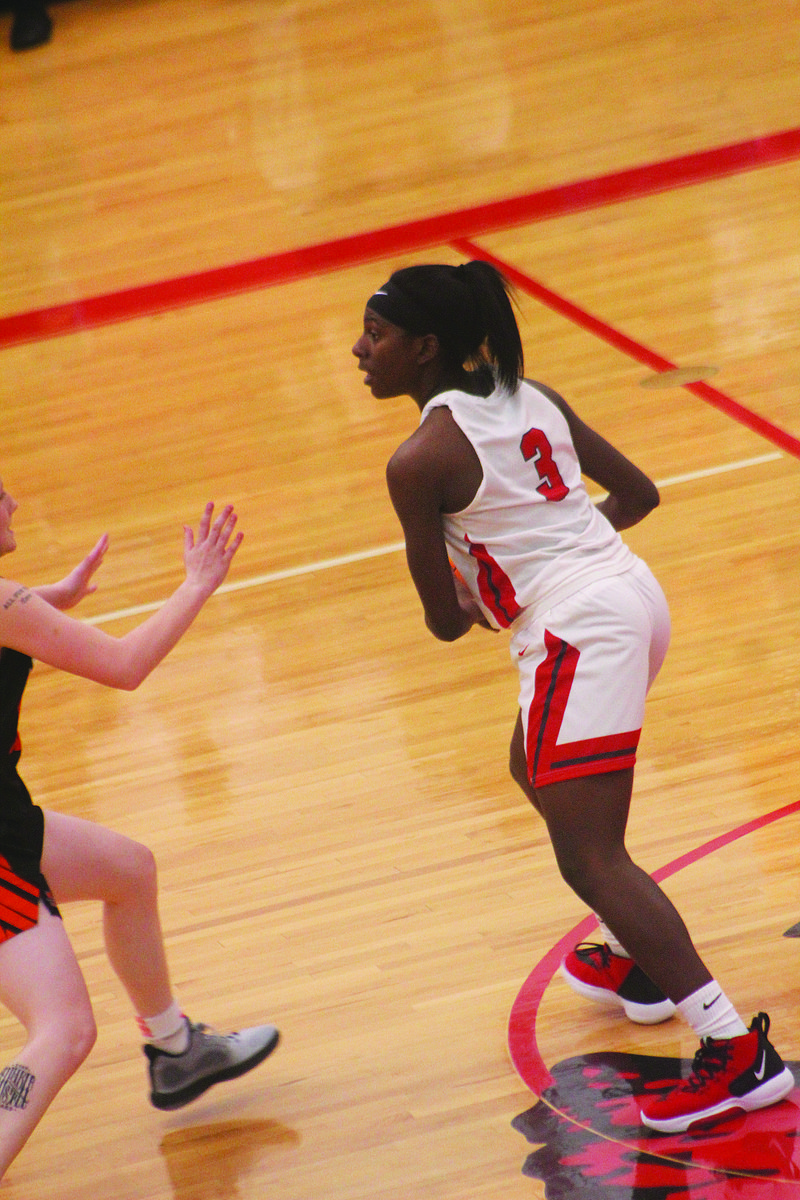 - Photo by Patric Flannigan
CAMDEN — After Junior Varsity Cardinals defeated Malvern 31-27, the Camden Fairview Lady Cardinals (1-2) captured its first win of the season by downing Malvern 51-33 on Monday night.
The Lady Cardinals led the game early before Malvern took the lead around the five minute mark of the second quarter. CF would trail by five before energy plays from Raven Porchia and back-to-back steals and fast break points by Tamia Dandridge would propel CF to take a 19-15 lead into the half.
CF's Takari Glover would find a rhythm and score nine points in the third quarter alone as the Lady Cardinal guards were able to turn up the pressure on the Malvern back court.
Glover would lead all scorers with 14 points on the night followed by Madison Thurman with 13. Dandridge finished the game with nine points and 10 steals.
After the game, CF Lady Cardinal Head Coach Johnny Jackson said he was proud of his team for how they played.
"It was a much needed win," Jackson said. "We played our first two games on the road and the kids kinda got a little down. We're a team trying to find our identity. Once we get our identity and really accept our roles then we'll be okay."
Jackson said that his team was "watching" a lot in the first quarter but did a better job rebounding later in the game.
"We stopped standing around watching," Jackson shared. "We kinda got on them a little bit about rebounding. What I was most impressed by was the pressure we put on the ball. Our defense should be our offense all year."
A lot of the Lady Cardinals success was accomplished when it went into its 2-2-1 and was able to bring in players off the bench that were able to maintain pressure.
"We practice that way," Jackson stated. "We don't have any baggage on our team. If you make the team, then you're subject to get in the game. If you play hard in practice, you're going to get your minutes in the game. I think that's going to be an asset later down the road with them getting in big games. I like the small number. We only had 13 players. We practice hard and put pressure on the ball constantly in practice so we're used to playing that way, now other teams now have to come in and get used to it. Coach Deidra Johnson came in and brought in the 'deny'. We play a lot of deny basketball. We want to get a lot of tips, deflections and steals. Once we cut down on all the unforced turnovers I think we can be a pretty good ball club."
Jackson echoed how proud he was of his team especially since it is replacing three of its top scorers from last year - one of which, TaiSheka Porchia, has posted two double-doubles at Abilene College already.
"To lose our top three scorers and a senior class with nine in it, the kids gotta have their time to find their identity," Jackson explained. "Our top three scorers are all in college. We lost 30-35 points a game. For them now to come in and play the way they are, I'm super proud of my girls to grow up that fast. To be able to be put in situation and they rise to the occasion after losing as many points as we loss is a blessing. It's not looking great right now but you can see the potential."
Varsity Cardinals lose to Malvern
The Camden Fairview Cardinals led Malvern by 13 in the first half before ultimately losing 81-71.
The Cardinals opened the game hot with Javien Clemmer getting to the rim with easy baskets on Malvern turnovers. However, Malvern would stay in the game thanks to four three pointers in the first quarter by Dakovin Blackmon. Malvern would also hit a three at the buzzer to only trail the Cardinals 21-15.
In the second quarter, CF struggled to find a rhythm offensively as it rotated some of its players to get its starters some rest. Blackmon would stay hot and move Malvern in front of the Cards to take a 39-37 lead at the half.
The Cardinals would miss key rebound and critical put backs in the second half as its offense played well but the defense struggled to find an answer for Blackmon who finished the night with 41 points.
Dashaire Ford Burton led the Cardinals with 18 points followed by Christian Strahan with 15 points and 8 rebounds.
Sponsor Content
Comments