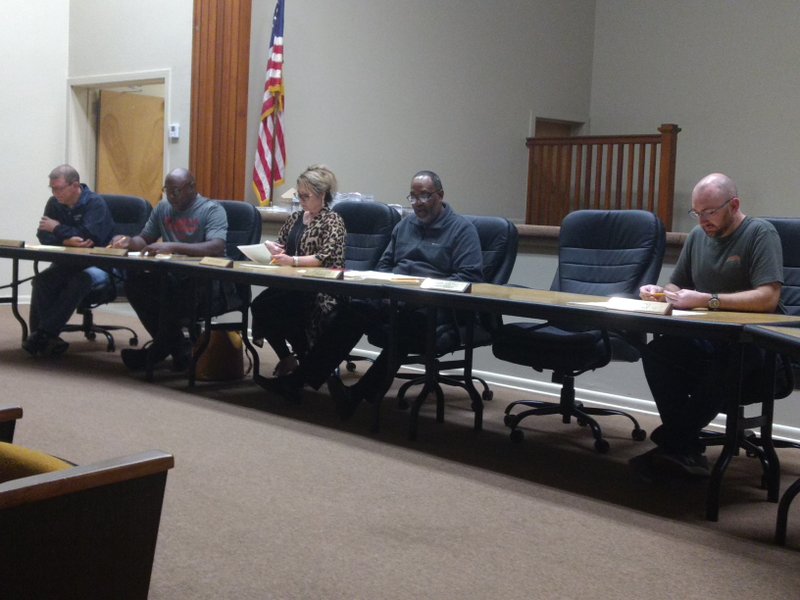 Camden Fairview School Board members meet at Tuesday night's special called meeting. The board nominated Fred Lilly as acting superintendent. - Photo by Bradly Gill
CAMDEN — By Bradly Gill
News Editor
The Camden Fairview school board named Fred Lilly, deputy superintendent, active superintendent of Camden Fairview School District in a special called meeting Tuesday night.
At the beginning of the called meeting, President Eddie Moore called a recess to discuss "personnel issues." Attorney Allen Roberts was then called back into the meeting. These actions caused two apparent Freedom of Information Act violations, as board must announce an executive session before adjourning to one and only board members and employees of the district are allowed in said executive sessions.
"They called Whitney and I back and the only thing said was 'What are we here for? How do we go about doing it' and the answers I gave were 'All you have to do is go pick an acting superintendent ' and the way to do it is to go out and go into executive session," Roberts said. "When they called us back I told them to go back out and call an executive session. I would have eliminated calling it to order the first time."
Roberts added, "They did everything the second time they went back. That's when the meeting, such as it was happened. What I tell them often too. There isn't anything wrong with doing personnel business in the public meeting."
After the board returned, a second executive session was announced, which Roberts was not present at.
The board returned and Moore announced the need to name an acting superintendent until an interim superintendent was named. Sean Dorey nominated Fred Lilly and the motion was seconded Beth Smith.
Board members Carrey Bennett, William McCoy, Eddie Moore Jr., Beth Smith, Sean Dorey and Dr. David Mosley all voted unanimously to approve the motion.
Camden Fairview Superintendent Mark Keith announced his upcoming retirement earlier this week in a letter to Camden Fairview School District Employees.
Sponsor Content
Comments