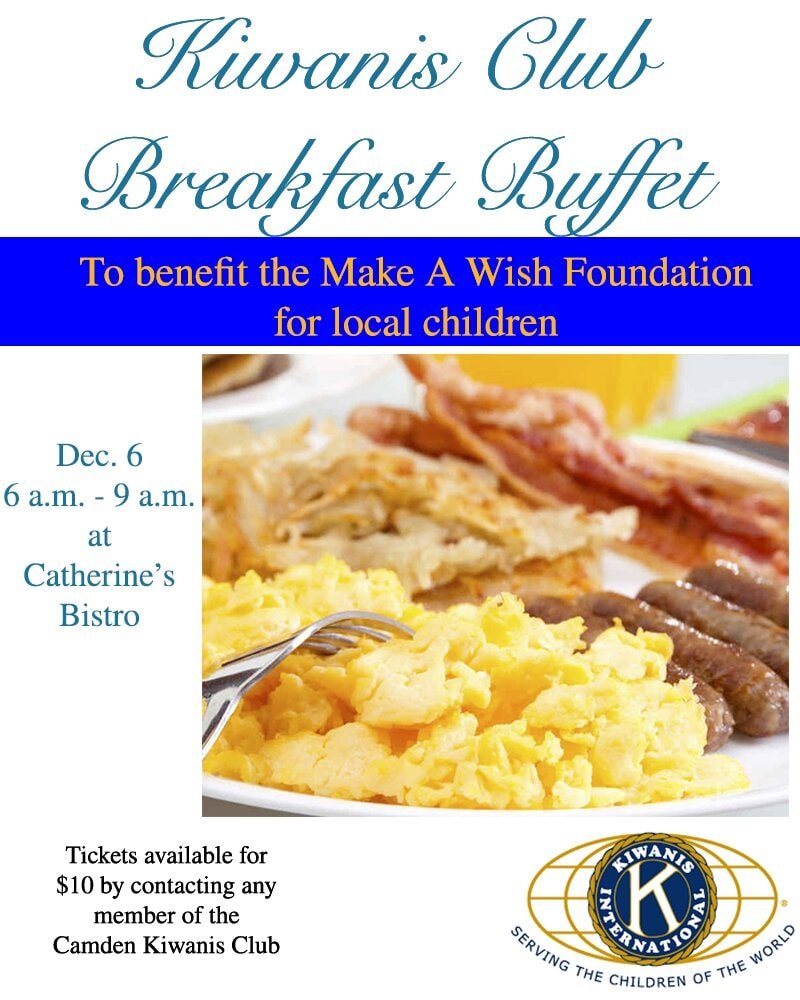 CAMDEN — By Patric Flannigan
Sports editor
A local organization is hosting a fundraiser to help local children.
The Camden Kiwanis Club will host a Breakfast Buffet from 6 to 9 a.m. at Catherine's Bistro. Proceeds will go towards the Make A Wish Foundation to help grant a child's wish. Tickets are $10 and the menu will consist of eggs, sausage, bacon, pancakes and etc.
The Camden Kiwanis Club has partnered with the MAWF for several years now and have granted three wishes since. Each child that was selected lived in the Camden area.
This year, the Camden Kiwanis Club is aiming to grant two wishes with the help of the community.
According to its website, Kiwanis International was founded in 1915 by a group of businessmen in Detroit, Michigan, United States. The organization was originally called the Supreme Lodge Benevolent Order of Brothers, but changed its name to Kiwanis a year later.
The name "Kiwanis" was coined from an American Indian expression, "Nunc Kee-wanis," which means, "We trade." In 1920, the motto of Kiwanis became "We Build." It remained the motto until 2005, when members voted to change it to "Serving the children of the world." In the early years, members focused on business networking but in 1919, the organization changed its focus to service — specifically service to children.
The mission of the Kiwanis Club is to be a global organization of volunteers dedicated to improving the world one child and one community at a time. Presently, members stage approximately 150,000 service projects and raise nearly $100 million every year for communities, families and projects.
For more details on the breakfast buffet or ticket purchases contact a member of the Camden Kiwanis Club.
Sponsor Content
Comments