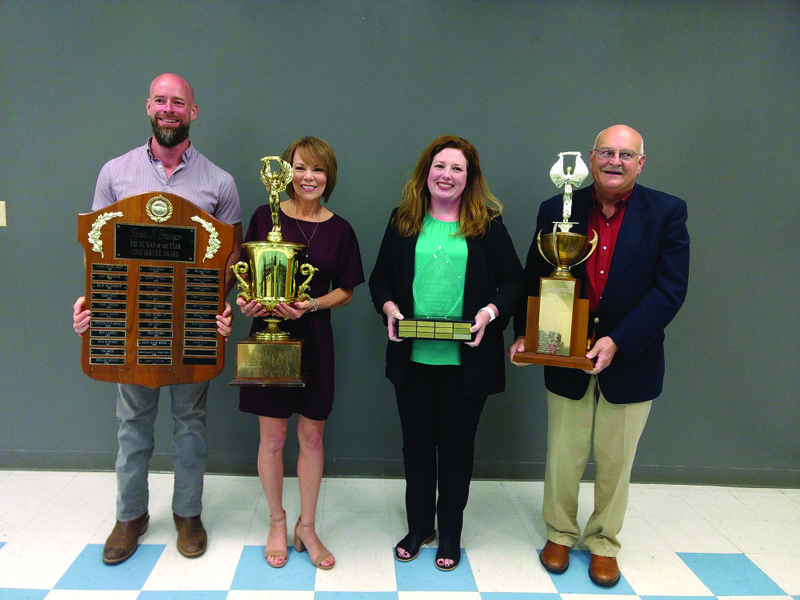 Distinguished Service Award winners James A. Branyan Outstanding You Man winner Travis Daniel, John Stinson Award for Civic Service winner Laura Raines, Vida H. Lampkin Outstanding Young Woman of the Year winner Anna Sanders Warriner and W.E. Hussman Man of the Year winner Jim Golden stand with their trophies at the 2019 Camden Lion Clubs Distinguished Service Awards Banquets. The four were honored for their community involvement in helping improve Camden. - Photo by Bradly Gill
CAMDEN — The Camden Lions Club honored four individuals Monday night who exemplify public service at the 2019 Distinguished Service Awards held at Thrive Church .
• Anna Sanders Warriner was presented the Vida H. Lampkin Award for Distinguished Young Women by past winner Rajveer Kan. Warriner is a member of the Ouachita County Historical Society and teacher center coordinator at the South Central Service Cooperative .
• Travis Daniel was presented the James A Branyan Outstanding Young Man award by past recipient Jason Morrison. Daniel has implemented several projects downtown to beautify Camden and is a volunteer with Habitat for Humanity.
• Laura Raines was presented the 2019 Stinson Outstanding Woman of the Year by past recipient Beth Smith. Raines is on the board of the Plant a Seed Foundation and is one of the founding members of Camden's First Friday Outdoor Market.
• Jim Golden was awarded the 2019 W.E. Hussman Camden Man of the Year Award by past recipient Johnny Hobbie. Golden is the owner of Jim Golden Ford, a member of Rotary and the president of the Ouachita Partnership for Economic Development.
The special keynote speaker for the event was Darynne Dahlem, Miss Arkansas 2019.
Dahlem is the 22 year old daughter of Ron and Traci Lewellen of Greenwood. She is a Cum Laude Honors Graduate at the University of Arkansas with a degree in Animal Science. Dahlem will represent Arkansas during the Miss America Competition, which will be shown live on NBC's "The 2020 Miss America Competition" , Dec. 19, 2019 from 7 to 9 pm at Mohegan Sun in Uncasville, Connecticut.
Dahlem spoke to the crowd about her setbacks and learning experiences on the road to gaining the title of Miss Arkansas.
She confided that her decision to enter the pageant after failing to win the first four times came after she received a rejection letter from her medical school of choice.
She said, " I realized at some point you have to change your course. And it was that moment that I decided to go back to Miss Arkansas, because if I wasn't going to med school I had one more year. So, I went to Miss Arkansas this last year and it was my fifth year. Most people don't win on their fifth try. Most women quit after three years, but like I said, I didn't get the hint so I kept going."
Dahlem thanked Camden for her warm welcome and said that the community was experiencing a resurgance due to the efforts of people like the winners of the awards.
Sponsor Content
Comments