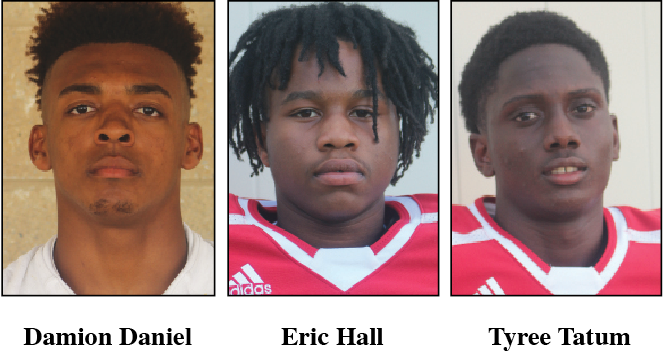 CAMDEN — The Camden News has released its Week 5 Players of the Week.
The "Players of the Week" feature is sponsored by Farmers Bank & Trust.
A combination of statistics, impact and coaches' nominations are taken into consideration to determine the Players of the Week.
This week's Players of the Week consists of two juniors and a senior from Ouachita County.
Harmony Grove senior wide receiver Damion Daniel scored the first touchdown for the Hornets on a 15 yard reception and then scored the third touchdown for H.G. on a 57 yard touchdown run to help the Hornets beat Genoa Central, 60-21 in on the road.
CF junior running back Erik Hall with around 40 carries for 245 yards and a touchdown against the Texarkana Razorbacks.
CF junior safety Tyree Tatum tallied five tackles and an interception against the Razorbacks of Arkansas High last week.
Honorable mention
H.G.'s Xaylon Falls, Mecca Arnold, Zach Smith and Jeremie Edwards all found the end zone against Genoa Central. Falls scored on a 35 yard run and had a 54 yard interception return for a touchdown. Edwards scored on a three yard run and added two, two point conversions. Arnods scored two, two point conversions and rushed for two touchdowns.
CF's Logan Robertson accumulated over 150 yards of offense and was the second leading rusher for the Cardinals with 88 yards against the Arkansas High Razorbacks.
The Camden Fairview offensive line was dominant against the Razorbacks only allowing one sack but leading the way for over 370 rushing yards.
Sponsor Content
Comments