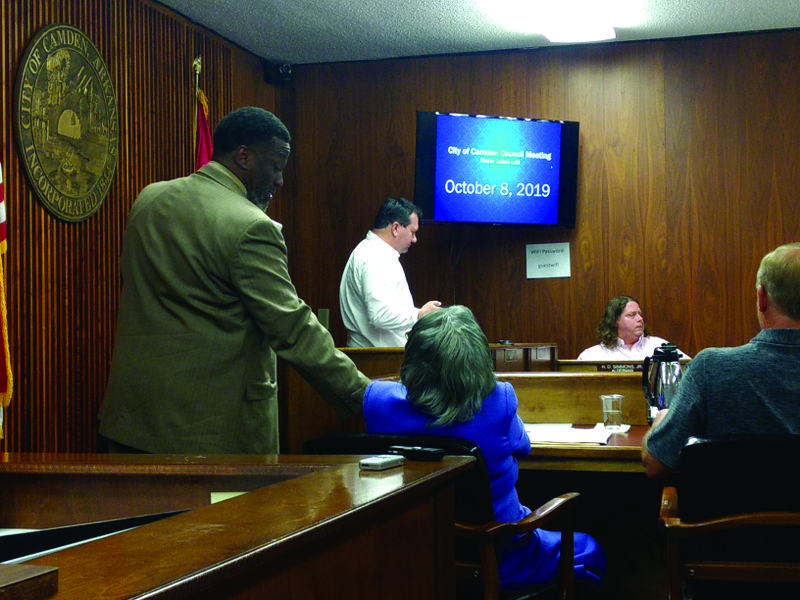 - Photo by Bradly Gill
CAMDEN — Despite pleas from both proponents and skeptics of the proposed downtown entertainment district, the ordinance was held over for a third and final reading at Tuesday's Camen Board of Aldermen meeting. Camden City Council aldermen will have to wait until the November meeting for the final vote.
Entertainment districts essentially create areas of municipalities where open container laws are relaxed. Legislation sponsored by state Sen. Trent Gardner (R-El Dorado) and state Rep. Sonia Barker (R-Smackover) passed in April of this year.
During the audience participation section of the meeting, several residents spoke for and against the ordinance.
"I'm here on the proposed Entertainment District that you are working on… This Entertainment District is about Camden, Arkansas now," former council member Danny Glaze said. "It's about the time to move forward and do some things that are necessary to make us become a vibrant city here in Southern Arkansas. There are others around us that are proposing to do this, that are making the conscious decision to do this to help their city… You're going to say 'Maybe you do have a vested interest in it,' and I do, and it's my son and daughter-in-law and their sitting in that audience."
Glaze's son Bobby Glaze plans on opening a microbrewery in the proposed district and told alderman Lawrence Askew that a tentative groundbreaking is planned to coincide with the Daffodil Festival in March.
"There's a whole world of young people in Camden that is a completely untapped market," Bobby Glaze said. "There's so many people from out in the area, from Lockheed, Aerojet, everyone else, they move here and we're really good at bringing in young developing individuals, but as a city we're really bad about keeping them here and giving them a reason to stay here. The entertainment district is probably the first thing I've heard that is going to push Camden forward."
Glaze cited the success of El Dorado's entertainment district during MusicFest as part of his argument. El Dorado's city council was one of the first in the state to approve an entertainment district in July.
Emily Jordan-Robertson, the owner of Postmaster's grill, voiced her support for the ordinance: "This is an economic activity, as far as I'm concerned. We need to be progressive."
Robertson said that she sees young professionals from the Highland Industrial Park downtown Thursday through Saturday and cited a recent St. Patrick's Day Pub Crawl as an event which could have benefited from the ordinance.
"Believe me, I am not against alcohol, I'm not against drinking, I'm not against young people having a great time. I was young once," citizen Ed Winters told the board. "I'm just looking at it from a little different direction. The times for this are from 4:30 to midnight. I would propose we're going to have the bars open till midnight, because if not we're just doing to have people walking around and empty town until midnight. My concern are with the family-oriented activities. Last Friday at First Friday was a wonderful time… A lot of families with young children. Personally, I don't believe introducing alcohol to a family-oriented activity is a proper thing."
Winters went on to mention Stars Cinema 6's recent policy change of selling alcohol, but said that it can only be sold if the person was watching an R-rated movie, not PG or G.
"In reference to the entertainment district-I'm not opposed to it, but I'm also not for it, until you have all the information," Greg Nettles said. "My question is, are we still doing research with the police department and when this happens will they be available for other businesses to come in? For example, if someone wanted to open a suit shop."
Adlerman James Bell told Nettles the ordinance "doesn't limit at all what someone can put in there. It's meant to bring more people downtown and hopefully spur economic development."
Nettles also asked if the district was small enough for Camden Police Department to effectively police.
Camden Police Chief Bo Woody said that, at its current size, his officers could effectively patrol the area.
During discussion of the ordinance, Alderman Marvin Moore reiterated that his initial objectives were based on concerns about public safety and the fact that the originally proposed map was too large of an area for CPD to patrol.
Moore said that the Chief Woody should have been shown the original map before it was brought to the table of the city council.
The Council voted to revise the original map, which ran from Harrison Avenue to Monroe Street to the Riverwalk area, and from Van Buren to parts of Adams Avenue. The new map scales the district back to running from Jefferson Avenue to Monroe Avenue and Van Buren to Jefferson Avenue.
Other ordinances and resolutions that were passed were:
Ordinance No. 21-19. an ordinance authorizing Camden Water Utilities to increase sewer rates for customers on the Shumaker Sewer System: prescribing other matters relating thereto; and declaring an emergency passed.
2 Ordinance No. 22-19. an ordinance repealing Ordinance No. 2-18 assessing a lien on certain property located at 628 Carver St, SW.
Ordinance No. 23-19, an ordinance repealing Ordinance No. 5-15 assessing a lien on certain property located at 422 Ouachita St. SW.
4 Ordinance No. 24-19 an ordinance fixing the rate of taxation for the year 2020; declaring an emergency and for other purposes.
Resolution No. 33-19. a resolution declaring the dilapidated structures located at 434 and 438 Union Street a public nuisance and to order the removal of the same.
6 Resolution No. 34-19, a resolution declaring the dilapidated structure located at 450 Union St a public nuisance and to order the removal of the same.
7 Resolution No. 35-19. a resolution declaring the dilapidated structure located at 211Center St. SW a public nuisance and to order the removal of the same.
8 Resolution No. 36-19. a resolution authorizing the Mayor to pay an end-of-year bonus to city employees including the City Clerk. City Attorney, Judge and Mayor.
Sponsor Content
Comments