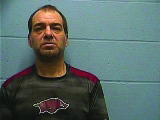 CAMDEN — A Camden woman had her first appearance on charges of domestic battery in relation to a stabbing and, in a separate case, a man had his first appearance on domestic battery charges, false imprisonment, terrorist threatening and possession of firearm.
Catheryn Browning, 52, was given a $30,000 bond on domestic battery in the first degree, a Class B Felony punishable by no less than five years and a fine not to exceed $15,000.
An affidavit states that, on Sept. 16 at 5 am., Officer Kayla Reynolds of the Camden Police Department was dispatched to Ouachita County Medical Center for an assault report. Upon arrival, she made contact with nursing staff who informed her that a patient had been stabbed in the back. The patient was intoxicated and had " a large laceration approximately three inches long on his back below the shoulder blade."
The patient said he had been stabbed on Saturday, Sept. 14 by Catheryn Browning.
The patient said Browning had threatened to kill him and stabbed him in the back as he tried to run away from her. The patient was in possession of a folding hunting knife that he claimed was the weapon used to stab him.
A witness also stated he witnessed Browning stab the patient.
• Roberts given $50,000 bond: Michael Roberts, 47, was given a $50,000 bond on charges of from a Sept. 13 incident where her allegedly held a mother and her eleven year old son against their will.
A police affidavit states, that the mother of the woman made contact with a Camden Police Officer in regards to her daughter and grandson being held at gunpoint by Michael Roberts. She said the situation had started the night before, but she had only been made aware of it moments before going to the police. She also informed officers that Roberts was watching out of the windows and said he would shoot the woman and her son if he saw any police officers.
Officers arrived at the residence and the mother and son exited from the back. Officers then made contact with Michael Roberts and his brother.
According to the report when officers spoke to the woman and her son, the woman's face was "badly beaten, it was visibly apparent that she had an injury to her nose. Also her eyes were swollen and there was a large knot forming by one of her eyes."
She informed officers that she and Roberts had been arguing and that the argument eventually turned physical. She said that Roberts eventually fell asleep in a recliner holding a gun and that he eventually woke up during the night and assaulted her again. Eventually she was able to make a phone call to her mother.
Roberts' brother said the Roberts frequently threatened the family and that he had said he told the woman, "If you leave me I will kill all of you mother**** and don't say anything to me or I will beat your head in."
The woman's son said that Roberts would say things to his mother like "I hate you. You deserve to die." The son stated that he later heard the assault of his mother and when he ran in the room his mother was covered in blood and that Roberts pointed the gun at both he and his mother. According to the son, Roberts continued to threaten them throughout the night, threatening to beat them with a baseball bat or kill them if the cops showed up.
Roberts is currently housed in Ouachita County Detention Center.
Sponsor Content
Comments