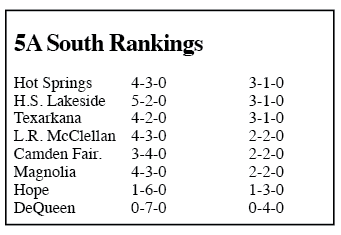 CAMDEN — The Camden Fairview Cardinals (3-4, 2-2) picked up a must-win last week when it defeated the De Queen Leopards on the road 48-6 last week. But, the Cardinals still have a lot of work to do to stay in the playoff picture.
The one thing that has been for sure in the 5A South is that nothing is for certain. Take for instance, CF's one point loss to a Magnolia team that was just defeated at home the week before by a Lakeside team that C.F. had defeated by five points on the road.
Magnolia then picked up a big win against previously undefeated in conference play Hot Springs and Lakeside defeated a Texarkana team that C.F. loss by an extra point to.
The Cardinals responded to back-to-back losses with its most efficient game of the year and are looking to remain that way when it travels to play the Hope Bobcats (1-6, 1-3).
But against nothing is for certain.
In 2013, the defending 5A South Champion C.F. Cardinals rolled into to Hope and were upset by the Bobcats in a close, controversial contest. Hope went on to win conference that year.
The race for the 5A South title is far from done and the Bobcats are still mathematically able to sneak into a fourth seed with three games remaining.
The Bobcats are coached by Phillip Turner in his second year with the school. They operate out of a spread attack on offense and a 4-2 front on defense. Hope has struggled defensively allowing an average of 60 points against them per game.
The Bobcats are deceptively fast and has a few skills players that can be explosive in space.
Hope is led by senior quarterback Hunter Hellums who owns 4.6 speed and has a solid arm. Versatile running back in Kenneth Anderson can catch it out of the back field and down the field.
On defense the Cardinals will have to worry about nose guard Darton Davis.
Sponsor Content
Comments