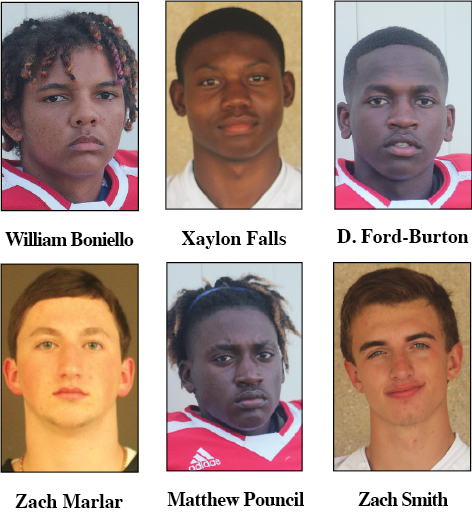 CAMDEN — The Camden News has released its Week 8 Players of the Week.
The "Players of the Week" feature is sponsored by Farmers Bank & Trust.
A combination of statistics, impact and coaches' nominations are taken into consideration to determine the Players of the Week.
This week's Players of the Week consists of three juniors and three seniors from Ouachita County.
Harmony Grove senior running back/WR Xaylon Falls scored two touchdowns during the Hornets 42-2 win against Fouke last Friday night. Falls scored on the second play from scrimmage and again on a four yard run before the half.
HG senior quarter back Zach Smith had two big passes for touchdowns to Damian Daniel last week. Smith also logs time on the defensive side of the ball.

Camden Fairview senior kicker William Boniello was 4/4 on PATs last week in CF's 54-14 win over Hope. Boniello is 9/9 over the last two weeks.
CF junior Dashaire Ford Burton had six receptions for 102 yards and a touchdown.
CF junior defensive lineman Matthew Pouncil had seven tackles, four tackles for losses and a sack.
Bearden's Zach Marlar was announced as the Farm Bureau Player of the Week recently and played well in the game against Hampton.
Honorable mention
H.G.'s Damian Daniel scored two touchdowns on big pass receptions against Fouke.
CF's Eric Gates led his team in rushing and had a pick six against Hope.
HG's defense held Fouke scoreless and forced several big turnovers at home.
Sponsor Content
Comments