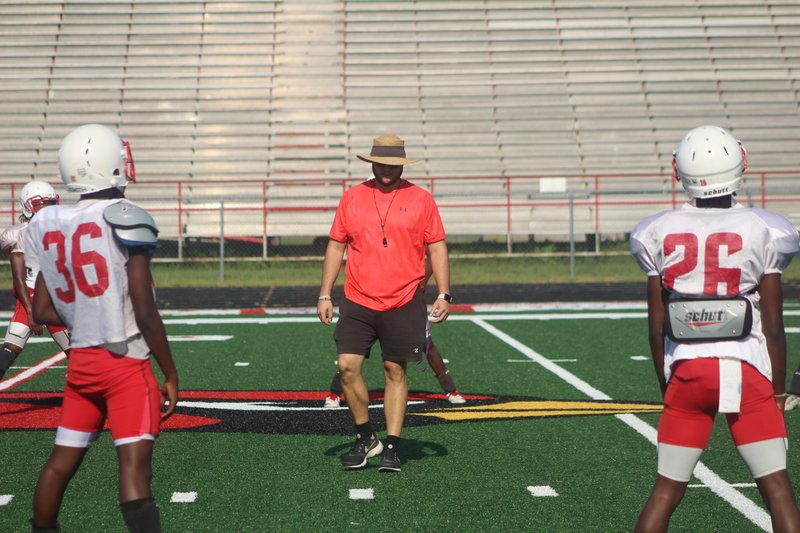 - Photo by Patric Flannigan
CAMDEN — The Camden Fairview Cardinals will finally get to test its metal in a game that counts at 7:30 p.m. on Friday when it host the El Dorado Wildcats.
Unfortunately, the Cardinals will take the field Friday night without its starting quarterback in Gunner Branch after he tore ligaments in his ACL and MCL in a scrimmage game against Monticello last week. Still, the game will serve as an opportunity for sophomore quarterback Logan Robertson.
While Friday may be Robertson's first varsity football action, it wont be his first varsity action by far. As a freshman, Robertson pitched for the Cardinal's baseball team and played a critical role in getting the Cards back into the state playoffs for the first time in four years.
The Cardinals practiced on Labor Day to get ready for an El Dorado squad as it seeks its first victory over El Dorado in varsity football since a 37-24 home victory in 2013.
The Wildcats have dominated the non-conference series since then but has improved each year under Head Football Coach Jake Monden.
Last year, the Cardinals likely fell victims to typical first game issues as CF turned the ball over four times in the El Dorado red zone in a 40-20 loss.
This year's game will bring a lot of changes - one of which is a new head coach on the El Dorado sidelines.
Steven Jones won a 2A State Title with Junction City in 2018 in just his second year at the helm of the J.C. football program. He took over for hall of fame coach David Carpenter who won six state titles in two stints with Junction City that made up 23 of his 37 years in coaching.
Now, Jones is taking over for another legendary coach in Scott Reed at El Dorado and will be looking for his first victory at the helm of the Wildcats against CF.
Similar to last year, the Wildcats are entering Friday's game after a Week 0 loss to Conway, this time by a final score of 37-27.
The Wildcats threw the ball more than it might've wanted to against Conway, but starting quarterback Eli Shepherd was effective in doing so going 22-of-31 for 295 yards and two touchdowns. All State Quarterback turned running back Alex Hicks is back for his senior year after being a thorn in the proverbial side of C.F. in 2018. Steven Tollette is another student athlete that has had success against the Cardinals in the past on offense that is a senior this year.
On defense, the Wildcats are led by Jacoby Hankton at nose guard on what is already a highly touted defensive line.
The Cardinals hold a speed advantage over a hulking defense and will hold the height advantage in its wideouts on the edges. The Wildcats gave up 200 yards rushing last week but were going against a Conway offensive line that has two D1 linemen.
C.F.'s line is young but strong and heavy and could be looking to send a message to the rest of the 5A South with a solid game. Junior running back Erik Hall didn't play against El Dorado last year but is coming into the game after a 1,000 plus yard season.
Defensively, the Cardinal will have to play with patience as the Wildcats are versatile on offense. Monden stated over the summer that the Wildcats are known for scoring early off of schemed plays that are specifically designed for who they are playing. The Wildcats appeared to keep that tradition by scoring early in last week's game.
The Wildcats also have a dangerous sophomore kick returner that has already scored a touchdown this year.
Season Tickets on sale
Football season passes are now on sale. The passes can be purchase at Camden Fairview High School Principals office or at Camden Fairview Middle School Principals office. The cost is $35.00 for the adult season pass and $25.00 for the student season pass
Sponsor Content
Comments