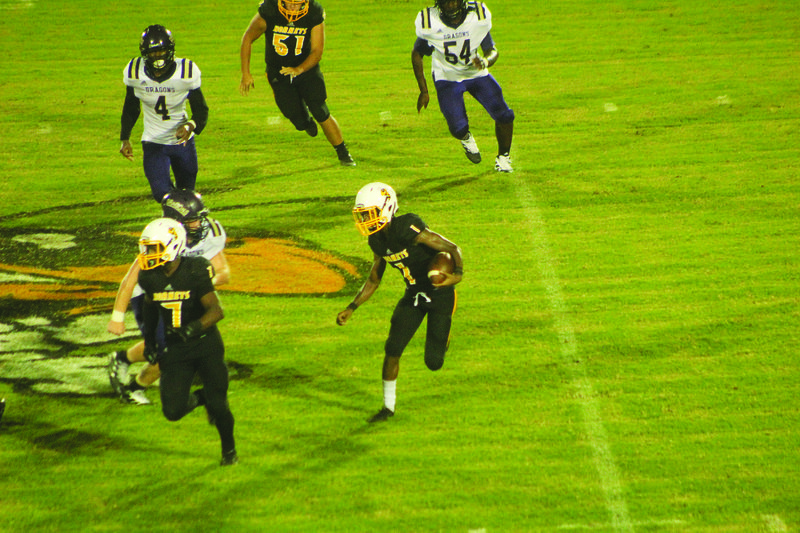 - Photo by Patric Flannigan
CAMDEN — By WADE TOTTY
Staff writer
Coach Ernie Horstcamp said the game was "ugly, really ugly at times," but his Harmony Grove Hornets found a way to win. They defeated the Class 2A preseason #1 Junction City Dragons 30-26 before a capacity crowd at Bill Manning Field on Friday night. The Hornets had not defeated the Dragons since 2001.
The game was marred by numerous penalties, fumbles, turnovers and conditioning issues that often plague season openers. The result was a tight game down to the very end.
The first score came at 1:22 in the first quarter when Hornets' QB Zach Smith connected with RB Xaylon Falls on a 16 yard pass and run. Falls would score the two-point conversion giving the home team an 8-0 lead.
The Dragons didn't score until the 5:58 mark in the second quarter, and it came OL Hudson Cates fell on a fumble in the end zone. The two-point conversion try was unsuccessful. The Hornets led 8-6.
Neither team could score again in the first half, but the Hornets took the kick-off in the third quarter and put together a 44 yard drive capped by a 3 yard run by RB Mecca Arnold for his first of two touchdowns of the night. After a failed two-point try left the score 14-6.
Junction City scored again at 5:00 in the third quarter on a 21 yard run by QB Brady Hutcheson. They failed to convert the two-point try leaving the score 14-12.
The Hornets fumbled the ensuing kick-off, but would force a turnover 7 plays later at their own 12 yard line. Three plays later the home team gave up a safety at 1:52 in the third quarter tying the game at 14.
Junction City took its only lead of the contest at 6:15 in the fourth quarter on a five yard run by WR Jeremiah Williams. The two-point attempt failed leaving the Dragons on top 20-14.
The Hornets regained the lead with 4:17 to go on the game on a 20 yard run by WR Damion Daniel.Mecca Arnold would convert the two-point try making the score 22-20.
Harmony Grove's LB Daniel Hill recovered a Junction City fumble on the next series. Three plays later Mecca Arnold scored on a 57 yard run. Hill followed up by converting the two-point try making the score 30-20.
Junction City scored once more at :33 left in the game. WR Jamal Johnson caught a 6 yard pass for the touchdown. The two-point conversion failed setting the final score 30-26.
Following the game Horstcamp said he was proud of his players' fourth quarter effort noting they "came out to win."
The Hornets (1-0) will make the short trip to Bearden for a game next Friday night. Kick-off is set for 7 0'clock.
Sponsor Content
Comments