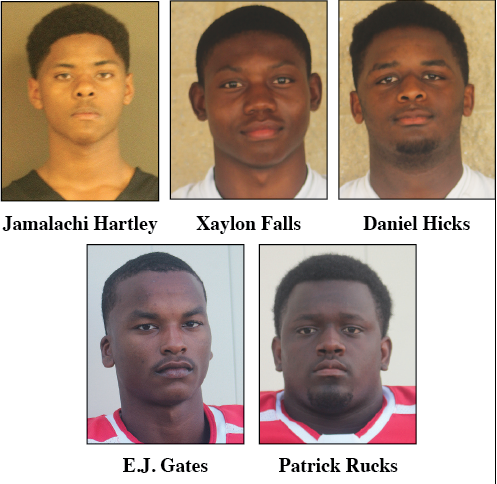 CAMDEN — The Camden News has released its Week 1 Players of the Week.
The "Players of the Week" feature is sponsored by Farmers Bank & Trust.
A combination of statistics, impact and coaches' nominations are taken into consideration to determine the Players of the Week.
This week's Players of the Week consists of one junior and four seniors.
Bearden's Jamalachi Hartley, Harmony Grove's Xaylon Falls and Daniel Hicks and Camden Fairview's E.J. Gates and Patrick Rucks were selected for the weekly award.
This is the second time Hartley has been nominated for player of the week. This week, Hartley stood out on defense and was applauded for his effort by Head Coach Greg Anthony.
Falls scored three touchdowns for the Hornets in a 54-0 win over Bearden. Xaylon scored on a 32 yard run before taking a 52-yard punt and a 40-yard punt to the house in the same quarter.
Hicks had a big game on defense on the line and also scored a touchdown early in the game when he lined up in the back field.
Gates tallied six tackles - one for a loss - and an interception against the El Dorado Wildcats in a 16-13 loss last week. He was a big reason why the Wildcats were only 7/14 for 62 yards in the air after going 22/31 for 295 in Week 0 against Conway.
Rucks was also nominated for his performance by C.F. Head Coach Jake Monden. Rucks wore the No. 12 to honor fallen teammate Tyler Kelley and didn't disappoint. While he only ran the ball six times he did so effectively. On a crucial fourth and short in the third quarter, Rucks popped a 25 yard run to keep the drive going. He also scored a two yard touchdown that put the Cardinals ahead.
Honorable mention
Harmony Grove's Damian Daniel, Jermaine Edwards, Jeremie Edwards and Kemp Fletcher all found the end zone for the Hornets. Daniel's caught a 17-yard pass for a touchdown from Zach Smith. Jermaine scored on a 40- yard touchdown run. Jeremie Edwards scored on a three yard run and Fletcher scored on a 66 yard fumble return.
Bearden's Kendrick Juniel played a big role in leading the Bears down the field in its opening possession against the Hornets.
C.F.'s Erik Hall ran for 138 yards and a touchdown on 17 carries before cramps cut his night short in the third quarter against El Dorado. Hall's touchdown came from 51 yards out. Troy Butler was the Cardinal's leading receiver with four catches for 49 yards.
Butler had a 49-yard catch and run for a touchdown called back.
Dashaire Ford Burton had over 80 yards in three punt returns including one that went deep inside Wildcat territory in the fourth quarter.
Sponsor Content
Comments