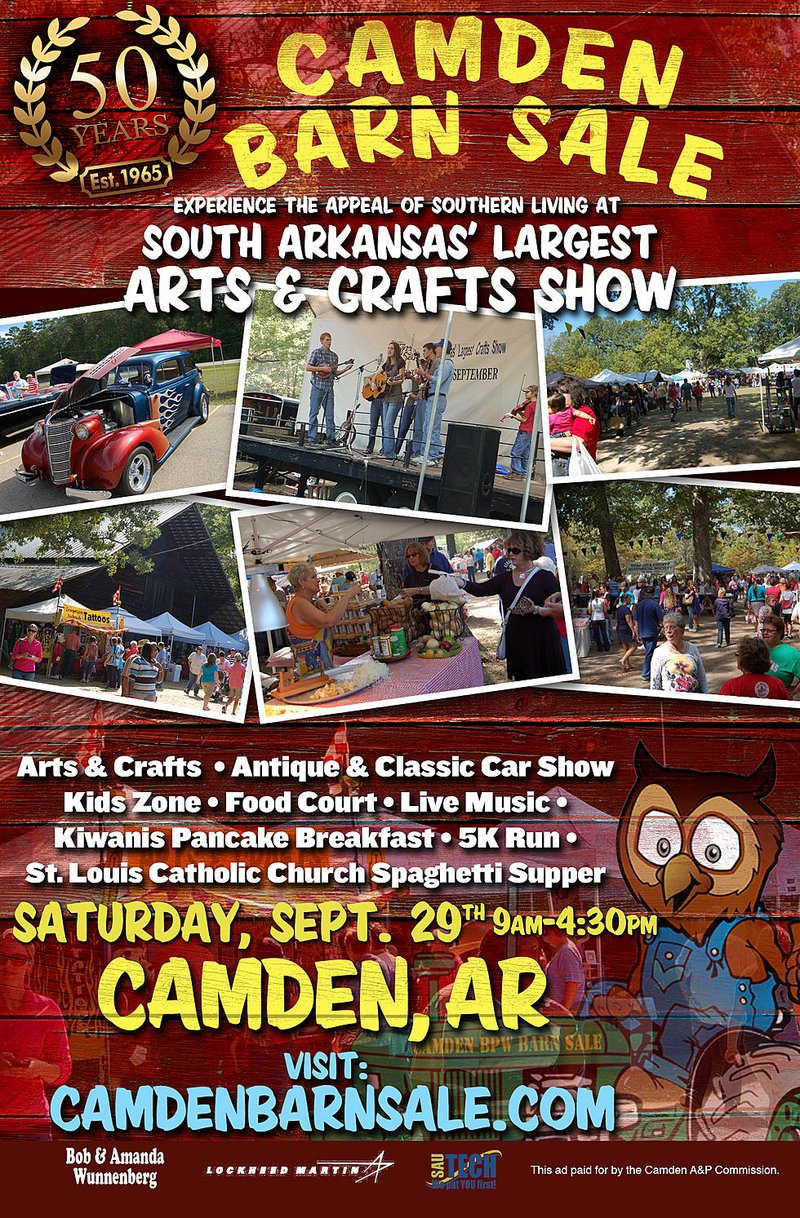 CAMDEN — Camden Arkansas -Experience the appeal of Southern Living at South Arkansas' Largest Arts & Crafts Show, the 51st Annual Camden Barn Sale, Saturday, September 28th, from 9am-4:30pm in Camden, AR. (Oakland St. & Monticello St. Camden, AR. 71701)
The Camden Barn Sale has grown into one of Arkansas' major tourist attractions. Join thousands from all around the region to shop handcrafted southern favorites as you browse over 130 booths of vendors and artists from all over the US featuring traditional crafts and contemporary styles. The massive old oak trees provide a breathtaking fall landscape as you stroll beside thehistoric barn site while browsing the crafts and original handmade works of art. Expect to find handcrafted wooden pieces, ceramics, paintings, floral arrangements, handmade clothing, jewelry, stained glass, one-of-a-kind toys, and much more. Enjoy the historic southern plantation setting and shop till your heart's content.
Enjoy a myriad of authentic foods as vendors from all over the South descend on the Barn Sale with their own unique southern favorites and festival treats. Musical entertainment takes place throughout the day with individual performances by the artists themselves at their vendor booths. It's fun for the entire family with the Antique & Classic Car Show, Kids Zone with inflatables, and festival traditions including the St. Louis Catholic Church Spaghetti Supper and much, much more.
Charlie's Angels Relay for Life Team will once again host the "Crusing for a Cure" car show at Cadmen Fairfview High School. Neil's Dinner will be selling hamburgers, drinks DJ with 50's & 60's music,
Shuttle Information:
The shuttles run continuously from 9 am 4:30 pm between the free parking areas and Barn Sale and from 9 am to 3 pm between parking lots and the Antique and Classic Car Show and the Camden Fairview High School on Cash Road.
Ouachita Enrichment Centers will provide shuttle buses. The cost to ride is five dollars per person for the day. Shuttle sop banners indicate each shuttle stop.
Free parking is available in each parking lot of both churches.
Shuttle pick up points are:
• Barn Sale entrance at the corner of Oakland and Monticello
• Antique and Classic Car Show at the Cullendal Assembly of God Church on Cash Road.
• Fairview United Methodist Church at 2603 Mt. Holly Road
• Oasis church West parking lot at Mt. Holly Road and Tate Street.
Additionally, the City of Camden has designated the following streets one-way to facilitate traffic around the Barn Sale
• Monticello Street; one way East from Cash Road to Warren Street
• Peebles" one way from Fairvew Round North to Monticello
• Oakland: one way from Monticello South to Fairview Road.
Sponsors include the event's title sponsor: the Camden Area Chamber of Commerce, Lockheed Martin, Bob & Amanda Wunnenberg, & SAU Tech.
For more information contact:
The Camden Barn Sale, 870-836-6426, or visit www.explorecamden.com.
Sponsor Content
Comments