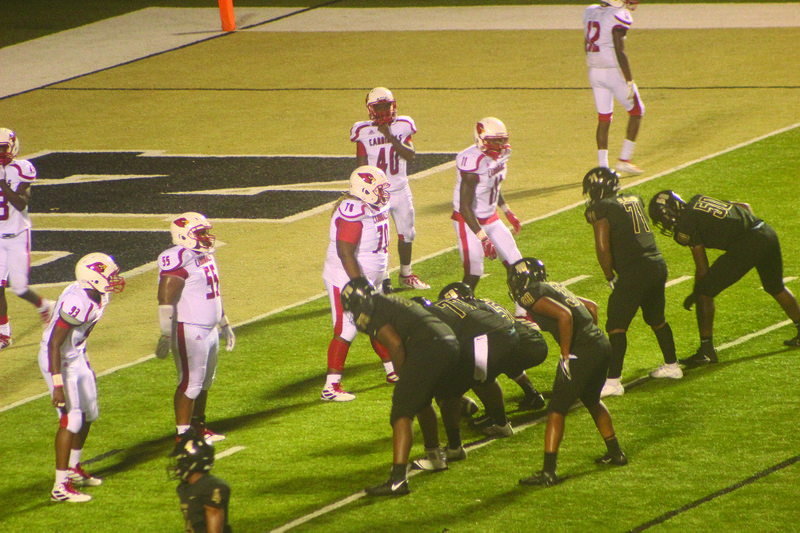 Standing tall The Camden Fairview Cardinal's defense gets set during last week's game against Joe T. Robinson. The Cardinals stopped Robinson - an undefeated team that averaged over 50 points per game - inside the five-yard line three times and held them to only two touchdowns. - Photo by Patric Flannigan
CAMDEN — The first season is over for the Camden Fairview Cardinals (1-2) varsity football team, now its time for the season that determines if there will be a third.
Conference play kicks off at 7 p.m. inside Hot Springs Lakeside's Chick Austin Stadium on Friday night. The Cardinals enter the game after losing a controversial game 20-14 on the road against Joe T. Robinson (3-0) in which it saw a last minute touchdown wiped off the board due to a penalty.
C.F. Head Coach Jake Monden stated last week following the game that his team will have to rebound quickly for conference play and added that he was proud of how his team has performed thus far.
While the record may not show it, the 2019 non conference season has been the Cardinals most competitive since 2014. Since then, the Cardinals have gone 1-2 and even 0-3 (2017) and have an average loss margin of 27 points. This year, the Cardinals have only lost by a combined 9 points in games in which a total of three touchdowns have been called back.
Monden knows that his team knows they were one or two plays away, but emphasized how important it is for his team to lock in mentally and make the winning plays.
The Cardinals have dominated the conference series against the Rams since the 5A realignment in 2006 winning 10 of the two teams' 13 meetings. Last year, the Cardinals defeated Lakeside at home 38-26 in a game that was delayed by bad weather and wasn't completed until well after 11 p.m.
The forecast is sunny for this year's match between the Cardinals and Rams.
The Rams are similar to CF in that they play a lot of juniors. It's led on defense by junior Will Perrigo and operates on offense behind junior quarterback Will Ross and 6'3 junior wide receiver Logan White. The Cardinals will also see all state running back junior Issac Echols. Echols had a good game against CF last season and is hard to lay a hit on with his 5-6, 145 frame.
Lakeside is coached by Jared McBride and averaged 32 points per game this season and allowing 27 points per game.
In its three games, the Rams have proven to be susceptible to the run and has won its two game with second half surges. Fountain Lake dominated the time of possession against the Rams by holding on to the ball for more than 30 minutes of game time and Lake Hamilton was able to score on long runs in Week 1.
The Rams return five starters on each side of the ball and operate out of a spread attack.
CF hasn't won at Lakeside since 2013 when they defeated the Rams 41-3.
Sponsor Content
Comments