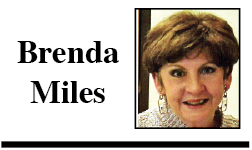 CAMDEN — I've told you before about my first career - I taught senior English and drama in El Dorado and in Houston, Texas, for 13 years. This was my first love, but changes in teaching methods changed in the late 70's and I decided to move on to a second career - selling real estate.
I was told that the big money was made by listing agents. Hang your lockbox on a lot of houses and wait for other realtors to help sell them. Not for me. I'm a people person. My strengths as a selling agent lay in my preparation. I studied the inventory and knew the major markets. I previewed most of the houses I showed. I soon found my niche when I was moved to Corporate Relocation Specialist. I worked group moves by major oil companies and Compaq Computer Corporation–both internal and international–and was blessed to meet people from all over the world.
This is how it worked: My initial call came in from the transferee. I listened to the preferences for the area - the "want" list for the new home. Then I began working my jigsaw puzzle to put it all together. Usually, the husband arrived first. I picked him up at the airport and showed him selected houses. He chose the preferred possibilities for his wife to see when she arrived.
I could get to both airports blindfolded and I have visited lobbies of most every top hotel in Houston. My days could run from 8 a.m. until 9 p.m. I've been known to negotiate contracts from my home until after midnight. Certain cultures dine late and don't care to talk business until after dinner! I'll share a few of my stories with you:
• A couple was transferred in with Exxon. Never having visited Houston, they wanted to see everything - especially outlying areas they'd read about. We began in The Woodlands, a large area in northwest Houston. They really liked the first house, but the husband said perhaps they should look at all corners of Houston, regardless of commute time. For the next five days we looked 10 hours a day at everything, everywhere! They bought that very first house I showed them, three tanks of gas and $135 lunches at my expense, and many driving hours later.
A sweet young Conoco couple came in from Oklahoma to make their first home purchase. I took the wife out while the husband attended meetings. She fell in love with every home I showed her and 'gushed' over each one in front of the owners. During our lunch break, I tried to tactfully express she might need to hold her comments until we got back to the car to avoid compromising bargaining power in negotiation. "Oh…" she said, "I see. I'll be more careful."
The last house we saw was absolute perfection. It was a cold day and the owner had cinnamon rolls baking. I watched as the young customer tried using all the strength she could muster not to gush when the owner walked us out. On the front door was a brass knocker with the word "Shalom" (Jewish for 'peace') Thanking her, we were half way down the walk when my customer could stand it no longer… "By the way, Mrs. "Shall-um," your house is just gorgeous!"
• An oil exec with Shell was returning to the states. His name? TED BUNDY. Try writing that moniker on a contract you are about to submit!
• A lady from Eastern Europe was astounded at the modern conveniences in the homes she was shown. We found THE house and were re-visiting the massive 'garden' bath. She looked at the large window and declared, "Others can see my 'bits!'
Using my real estate expertise, I suggested a small blind would solve the problem, adding" "But look at this large walk-in shower! There's even a bench where you can sit to shave your legs!" Too late. I looked down at her leg hair which was long enough to braid!
• I had picked up a man returning from Saudi. Here I was in a car with a strange man driving down I-45 with signs on both sides of the freeway advertising XXX Movies and Girly Shows while I was trying to make polite conversation. Suddenly, he cried out, "Stop!" I looked at him questioningly—hit my brake and pulled to the shoulder. He swung open the door and vomited. After cleaning his face with a handkerchief he uttered, "I'm recovering from malaria. I've been ill and need to go directly to my hotel instead of seeing houses. Could we save the house tour for tomorrow?" I quickly obliged him.
• After the first of my Japanese doctors arrived for work at Baylor, I began receiving their referrals. One afternoon, a new doctor showed up at my office unannounced. I asked who had referred him. His accompanying interpreter answered, "Card on news board at office say 'easy lady.'" I asked him where it was posted. "Tokyo," he answered. When I told my husband, he replied, "Better'n a bathroom wall in Cedar Rapids."
I learned new phrases from my BP people from the UK. I knew to open my trunk when they asked to place briefcases in the 'boot.' I learned to honk my horn when a car pulled in too close and heard, "Pop your toot-ah!" And I learned other interesting phrases: At the end of the day, a customer needed to drop off some papers at his new secretary's home. Pulling over to the curb in front of her condo, I volunteered to re-park while I waited. "No," he said, "just remain here. I only have to go "knock her up." (Knock on door.) I managed a weak smile and told him to take all the time he needed.
(Brenda Miles is an award winning columnist and author living in Hot Springs Village. She responds to all mail at [email protected])
Sponsor Content
Comments