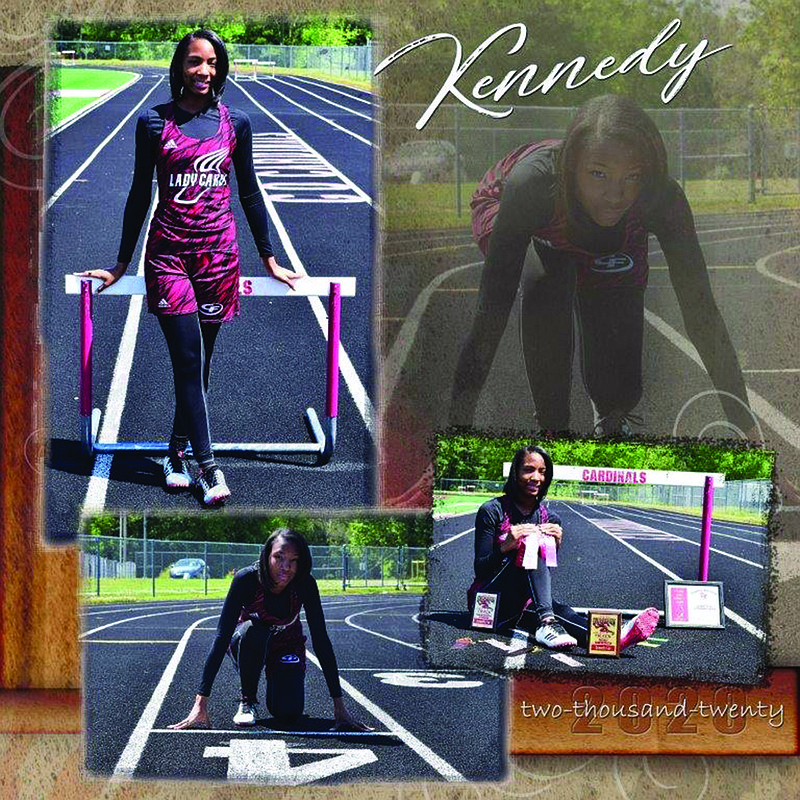 CAMDEN — Name:
Kennedy M. Lee
Sport:
Varsity Girls Track & Field
What has been your best memory from playing this sport?:
I have a lot memories from track. I have learned something from all of the coaches that I've had. I will always remember Coach Tucker's stories, Coach Weidmaier's weird humor, and Coach Lewis's jokes. I had the opportunity to go to an indoor meet in Fayetteville my first year of doing high school track. By the end of my first year of track I had completed a new personal record in the 400. Last year I made it to State in all of my events (400, 4x1, and 4x4). I also enjoyed the support of my family during all of my track meets.
What was your personal goal(s) that you hoped to accomplish this year?:
This year I wanted to beat my personal record in the 400, get better at triple jump, and to make it to state again.
Favorite teammate and why?:
I cannot say that I have a favorite teammate because they are all unique in their own ways.
Something the coach told you that you will remember in life:
It wasn't Coach Tucker's exact words, but " I know you can do it." (He was always motivating and supporting me as I ran my event.) After my first track meet Coach Tucker said jokingly " that monkey was on ya back."
What has representing your school/city in sports meant to you?:
I was honored to wear a jersey that represented my school and city. It was fun being able to play sports for Camden Fairview.
Favorite Hobby besides sports?:
I love spending time with my family, shopping, cooking, baking, watching movies, listening to music, fishing, and babysitting my little cousins.
Favorite Pro Athlete and why?:
Sha'Carri Richardson. She does Track & Field for LSU. She works hard to get better, she's beaten records, gotten lots of awards for her accomplishments. Sha'Carri shows that she enjoys what she does. If I did continue doing track, I would strive to get like her.
Future plans:
I will be attending Southern Arkansas University. I plan on majoring in Business Administration and earn a Bachelor's degree in Business.
What message would you leave to next year's teammates?:
Do not take anything for granted. Have fun and enjoy the sport while you can. Never give up and strive to become better. Remember that hard work pays off!
Sponsor Content
Comments