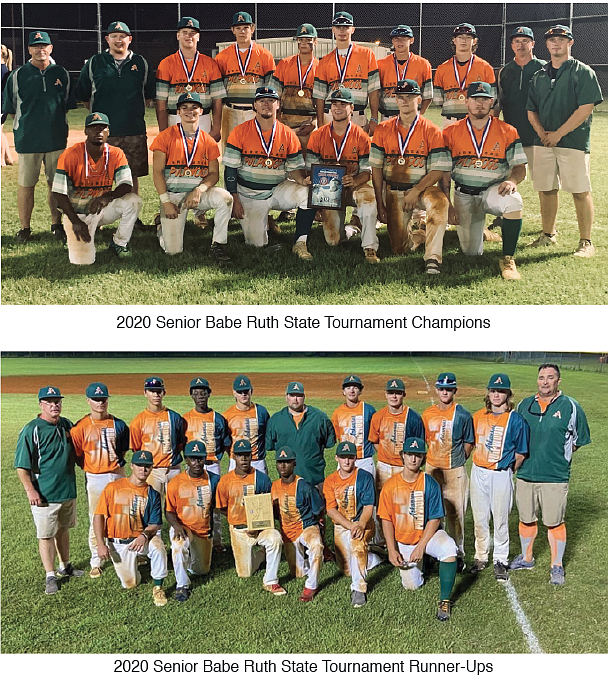 CAMDEN — By PATRIC FLANNIGAN
Sports editor
Arkansas Pulpwood hosted the 2020 senior Babe Ruth State Tournament at the Ouachita County Recreational Center July 31 through August 2. With few teams playing and participating this year, APW entered their 19U team as well as their 16U team. The 19U team went 4-0 to win the state title for only the third time in history. The 16U team had upsets against El Dorado 19U and Pine Bluff to reach the finals and finish as State runner-ups with both teams playing each other in the finals. It set up an historic final game with two teams from the same club.
"What a war!," Manager John Dawson II said. "Both teams fought so hard all weekend and really came to play. This was a great game to be a part of. What a way to conclude our summer with both teams competing for a state title. The boys played their hearts out. We've definitely had some tough things going against us this summer, but what a life lesson for these boys to remember. They've persevered beyond all to overcome and be rewarded for they hard work. This was a dream come true for me to see out players competing at this level. I'm just on cloud 9 and so proud of all these young men."
The APW 19's blanked Pine Bluff 10-0 in Game 1 behind the strong pitching of Cale Edmonds. Edmonds only gave up two hits over the five inning contest. In that game Nick Ward hit a home run, tallied an RBU and added two runs. Preston White, Walker Brown and Daeton Bassett also had hits in the game.
The bats continued to stay hot when the APW 19s played the El Dorado Oilers 15-4l Preston White pitched three innings and Tripp O'Hara shared the mound. Bassett (4-4), Jack Wurtz (3-3), Walker Brown and Gunner Branch (2-2) and Jake Turner (1-1) batted perfect while Edmonds, White Isaac Bellott and Ward also added hits.
APW 19s defeated the Oilers again in the third game, 10-0 behind the effort of Reed Merrell who only gave up one hit over five innings.
The APW 16U opened tournament play with a 5-3 win over the Oilers as Colton DeWoody, Easton Welch, Jaxson Case and Seth Edwards handled the pitching duties. In the second game, Pine Bluff defeated the 16's 13-3. However, in the Game 3 showdown, the APW 16s doubled Pine Bluff 10-5 to advance to the title game. Logan Robertson pitched four inning and only allowed four hits while striking out six batters. Martavious Thomas, Austin Jobe, Edwards, Roberts, and Cade Pigott were 100 percent behind the bat.
The title game couldn't have been much closer as both teams had 14 hits. Carson McKinney pitched 4.1 innings for the 16's and Edwards pitched the remaining 3.1 innings. The 19s were paced by Landon Rainwater, Brown, Ward and Bassett from the mound.
Sponsor Content
Comments