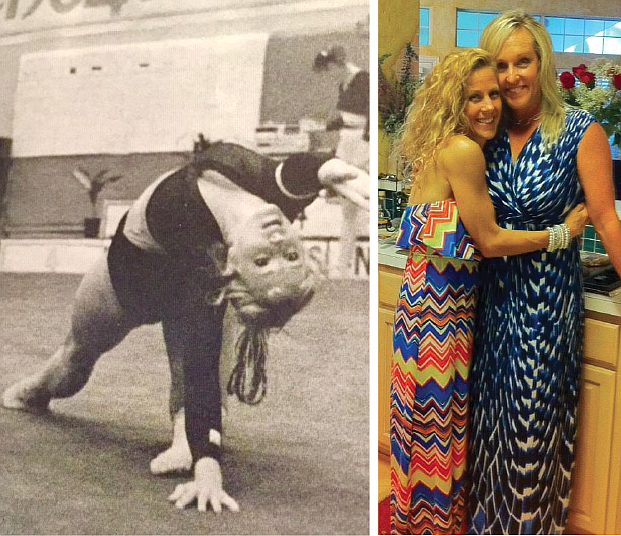 Mourning a Hall of Famer In the photo on the left, Rita Welch-O'conner performs during the Gymnastics National Championship in Oregon in 1984. In the photo on the right, Welch-O'conner stands with life-long friend and National Championship teammate Mitzi Bartek Harris (left). - Photos are contributed.
CAMDEN — By PATRIC FLANNIGAN
Sports editor
SAU Tech Hall of Famer and former student athlete Rita Welch-O'connor passed awy on Aug. 17 after her fight with cancer.
Welch-O'conner was a critical part of the SAU Tech Lady Varmint gymnastic teams rise to national prominence in the mid 80's.She along with her teammates were inducted into the Rocket Hall of Fame by Dr. Jason Morrison.
The Camden News documented the Lady Varmint Gymnastics team's accomplishments in the 80's in a feature story that was done earlier this summer.
SAU Tech released a statement regarding that passing of Welch-O'conner.
"We are saddened to learn of the passing of former SAU Tech gymnast, Rita Welch-O'Conner. On Monday, August 17, 20202, Mitzi (Bartek) Harris, a life-time friend and classmate of Rita, notified the College that the battle over cancer that Rita had fought so hard was over."
Welch-O'conner was a native of Mobile, Alabama and was raised in an Air Force family. She and her family moved around before setlling in Ocean Springs, Mississippi. That is where she decided to attend Aouthern Akrnasas Univesity and perform on the gymnastics team. She would also do her undergraduate studies at the University of Southern Mississippi before receiving her master's degree in Exercise Physiology from the University of North Texas.
Her obituary sheds more light on Welch-O'connor's interest and personality.
"While her performance in gymnastics, education and career were impressive, what made her truly exceptional was her enthusiasm for life, unstoppable joy and desire to serve others. Rita was passionate about fitness and inspired many to become active and healthy. She was a loving and gifted hostess. She was an eternal optimist that refused to focus on anything but positivity. Rita loved to bring her bulldog, Gus, to the nursing home every week to brighten the residents' days. She spent countless hours writing and sending cards of encouragement to her family and friends. She was active in raising money for Susan G. Komen and participating in the organization's events.
Her true joy and purpose was being a wife, mother and "Glamma." Her devotion to her husband, daughters and grandchildren was inspiring. Rita was always positive and, even in the depths of her illness, never complained. She found joy in encouraging others, and she made everything fun.
Rita's legacy is one of love and service. While her life here was too short, it was a life well-lived. We praise the Lord for lending us her light.
She is predeceased by her father, Andrew Welch. She is survived by her husband, Kelly O'Connor; three daughters: Haley O'Connor, Erica Neptune and Stacey Person; two sons-in-law: Jeremiah Neptune and TJ Person; five grandchildren: Cameron, Caeden, Miah, Jack and Ryan; mother, Elsbeth Welch; brother, Andy Welch; sister, Diane Jakins; sister-in-law, Laurie Welch; brother-in-law, John Jakins; five nieces and nephews: Kate, Taylor, Sydney, Courtney and Matthew; and more friends than can be named."
A funeral service was held Saturday at Fellowship Church in Grapevine, TX.
The family asks that donations be made in Rita's memory to the Susan G. Komen foundation. To donate, visit www.komen.org and click the pink donate button. Select any donation amount in memory of Rita Welch-O'Connor. Tribute cards are welcome to be sent to [email protected]
Sponsor Content
Comments