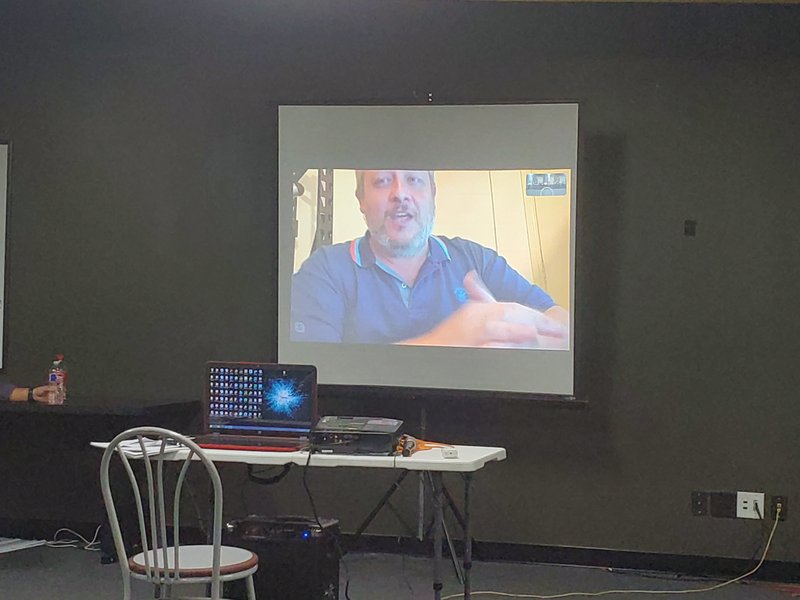 A man who discussed a multi-million dollar investment to start a hemp industry in Camden served three years in the federal prison system due to a wire fraud conviction, according to a U.S. District Attorney's office and federal records.
Christopher Mark Ford has presented twice during Paths to Prosperity think-tank meetings held in Camden in late January and earlier this month. The meetings were broadcast on Facebook Live from the City of Camden's Facebook account. Ford, who introduced himself as Mark Ford, has discussed planting hemp fields and building a processing facility in Camden, a $208 million investment he said could bring thousands of jobs to the area.
Ford runs a company called Agro Cannabis Group Colombia, headquartered in Bogota, Colombia, according to its website. He also produces a podcast discussing the hemp industry.
A Camden News investigation into Ford's past revealed he was arrested in 2008 in Ohio and later plead guilty to wire fraud, according to court documents. He was sentenced to 37 months in federal prison and three years of supervised release in September of 2011 and ordered to pay $664,731 in restitution. He completed his supervised release in 2014 in Colombia, according to court records, where his wife received medical treatments.
Multiple phone calls to Ford were not returned by press time. Ford's identity was confirmed by the U.S. Attorney's Office for the Southern District of Ohio, where Ford was arrested and charged with wire fraud.
According to an indictment, Ford owned WRZF Cable and Triple Play Telecom in Ohio and defrauded clients of more than $650,000 by selling purportedly cheaper-than-market-rate Voice Over Internet Protocol (VoIP) minutes, then cutting off services.
"He deliberately went into this scheme with the thought of defrauding individuals," Chief Judge Susan J. Dlott said during Ford's sentencing hearing. "He never intended for this to be an honest business. This was always a scam. And it seems to be the way that Mr. Ford has conducted a number of other areas in his life, as best the Court can tell. I don't think this is an aberration. I think it's part of a pattern.
"And I do agree with Ms. Grimes (Assistant U.S. District Attorney Deborah Grimes) that I think there's a higher risk for recidivism with Mr. Ford than a lot of other defendants because I don't think he realizes himself the significance and severity of what he's done."
During the Paths to Prosperity meeting, Ford also referenced a 28-year milltary career, but according to his attorney Richard Smith-Monhan during his wire fraud case, Ford only served in the U.S. Army from 1986 to 1991.
Camden Mayor Julian Lott, who is involved with the Paths to Prosperity think-tank and discussed Ford's potential investment in Camden via a teleconference with Ford during the meetings said that Ford's criminal history does not concern him.
"Anybody in Camden who doesn't have a past hasn't been born yet," he said. "So, you tell me the man has a past. What I would like to protect against is whether what that man is doing is going to affect economic development negatively. That's my only concern. His past is not my concern. I have a past. Even if a person is a good person, you can still make a bad deal with a good person."
Lott said he frequently stated during Paths to Prosperity meetings that he has not vetted the companies or individuals discussed during the meetings and that anyone who would consider a potential investment with the meeting subjects should hire an attorney before making any investments.
"I've encouraged all persons to get their own attorneys and let their attorneys do the work for them, and that I would give them different venues, but I'm not an attorney," he said. "I'm not a farmer, so I can't talk about Mark Ford, but I can talk about trying to bring industry."
Lott expressed frustration with the work of the Ouachita Partnership for Economic Development (OPED). He added that restaurants and other businesses are not expressing interest in coming to Camden, but there does appear to be a future for the hemp industry in Camden.
"OPED is not doing the Camden part of it, they're doing Calhoun County," he said. "They have a contract with Calhoun County and we have to get taxes inside our city. I can't ask for any more taxes: 6.5% goes directly to the state, 3% go directly to the county, 1.75% goes directly to the city, but .75% of that is police and fire. So I have 1% to fix streets, to make sure we are rendering the things you need in the community.
"I cannot convince our leadership right now the importance of getting more taxes. If I sound desperate, it's probably because I am. We've got to start thinking about the future."
Lott said that while he would be concerned about connecting people in Camden with a "current" or wanted felon, that he wouldn't stand in Ford's way if he wanted to invest in Camden.
"If a person was convicted of something. They went to jail and served their time. I can't, from a ministry [standpoint] and a standpoint of being a human, I can't say that a person doesn't deserve another chance, but of course I wouldn't want to facilitate or create problem for a person. I wouldn't want to bring a bad person to Camden," he said.
Sponsor Content
Comments