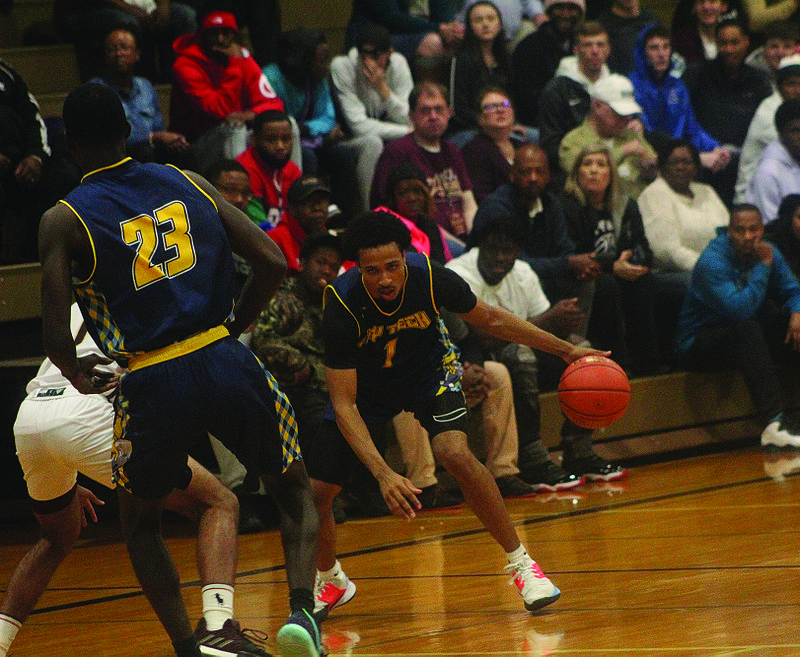 - Photo by Patric Flannigan
CAMDEN — The SAU Tech Rockets (9-7) defeated the SouthArk CC Shooting Stars (2-7) 91-75 at the Barton Jr. High Gym Thursday night.
While it wasn't the first basketball game between the two colleges, it was the first time SAU Tech took on SouthArk as the "Rockets." SouthArk, like SAU Tech in 2017, announced that it was restarting its basketball program in late 2018. SouthArk had not had a Stars basketball team since the 1980's.
SAU Tech is in its second year since restarting its intercollegiate scholarship athletics program and already has a women's basketball team, cheer-leading squad and a softball team.
The game began with the Rockets looking to run away with an easy win after jumping out to a 6-0 start, but the Stars showed they could compete and battled the Rockets throughout the first half. The Rockets did the bulk of their damage from the outside with threes from from Jaland Mitchell, Jerome Bynum and Immanuel "Manny" Anderson. Midway through the half, SAU Tech's Sheldon Steven's nailed three, three-pointers in a row. The Rockets would go up by as many as 14 points, punctuated by a big dunk by SAU Tech's 6'11" Treyon Johnson, before the Stars would go on a quick run to get back into the game. The Stars were able to do so by out-rebounding the the Rockets and drawing fouls to slow the action. The Stars' were able to keep pace with the Rocket's three-point attack with one of their own behind the solid shooting of Nate Evans who also hit three threes in the first half.
The half would end with Rockets ahead, 47-41 in front of a spirited and entertained crowd.
Anderson would score 7 quick points for the Rockets after the break and the defense would start to collect turnovers to lead to easy offense. The Rockets led by as many as 22 points in the second half and finished the game having led from the opening tip to the final buzzer.
Stevens led the team in scoring with 25 points followed by Mitchell with 18 and Anderson with 17.
After the game, SAU Tech Rockets Head Coach Marty Levinson talked about the ambiance of the contest and how he can see the game between the two teams getting bigger down the road. He shared that Barton's gym reminded him of the Shaddock Field House where SAU Tech played its game in 2018 and noted how hard it was for other teams to play well there.
"Pretty good atmosphere," Levinson said. "… I kinda knew this was gonna be a dog fight and they were gonna get up for us. But he (SouthArk Head Coach Nate Davis) did a good job with them. They played hard they got on the glass. They shot the ball pretty well at different times. I think he did a really good job. Nate's working his butt off and he's got new relationships with all those kids. They did a good job staying with us in the first half and we just stayed with what we did and got separation in the second half. I think everybody should be entertained from that… It's just a really good opportunity for kids (to attend school and play basketball). As you can see, pretty high level basketball. This could be a cool rivalry down here in South Arkansas if both programs do it right and the schools keep supporting it with everything we got going. We could have something pretty cool down here. It's an opportunity for 30 young men."
Sponsor Content
Comments