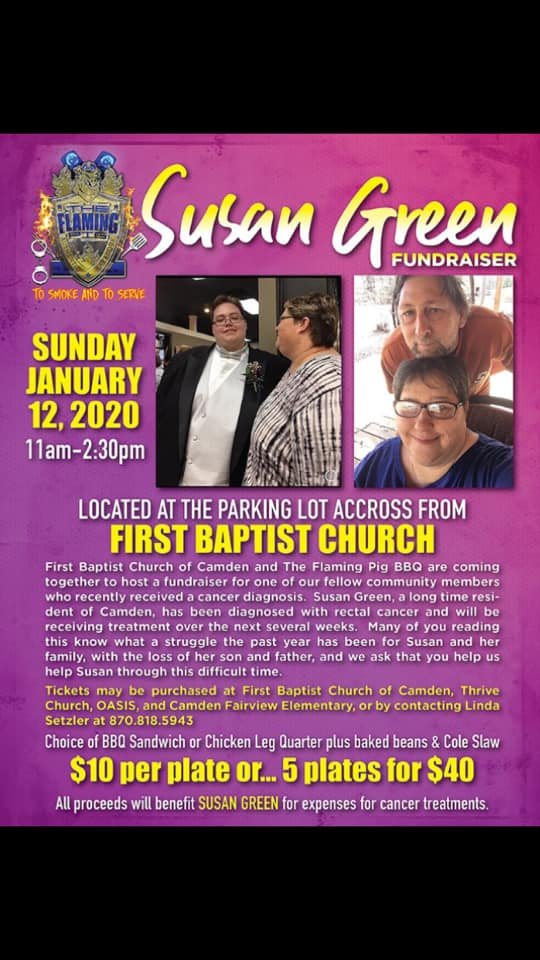 CAMDEN — By Bradly Gill
News Editor
First Baptist Church of Camden and The Flaming Pig BBQ are teaming up to host a fundraiser for community member Susan Green, who has been recently diagnosed with rectal cancer.
Green lost her son Spencer to cancer in 2018 and also lost her father in 2019.
The fundraiser will take place Jan. 12 at 11 a.m to 2:30 p.m. at the parking lot across from First Baptist Church.
Choice of BBQ sandwich or chicken leg quarter plus baked beans and cole slaw. $10 per plate or five plates for $40.
"First Baptist Church and the Flaming Pig BBQ are coming together to host a fundraiser for one our fellow community members who recently received a cancer diagnosis," an even flier reads. "Susan Green, a long time resident of Camden, has been diagnosed with rectal cancer and will be receiving treatment over the next several weeks.
"Many of you reading this know what a struggle the past year has been for Susan's and her family, witth the loss of her son and father, and we ask that you help us help Susan through this difficult time."
Tickets may be purchased at First Baptist Church of Camden, Thrive Church, Oasis, and Camden Fairview Elementary or by contacting Linda Setzler at 870-818-5943.
All proceeds will benefit Susan Green for expenses for cancer treatments.
Sponsor Content
Comments