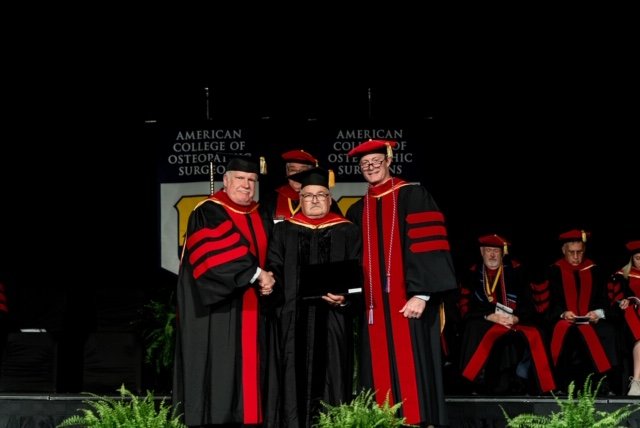 CAMDEN — Special to the Camden News
Colorado Springs, Colorado — The American College of Osteopathic Surgeons (ACOS) inducted Samuel H. Arnold, Ill, D.O., a board certified General Osteopathic Surgeon from Camden, AR, as a Fellow (FACOS) in October 2019.
The designation of Fellow of the ACOS is conferred upon members in recognition of their board certification and voluntary activities and service to advance osteopathic medicine and surgery. Those who earn the FACOS designation have demonstrated their commitment to the practice of surgery; surgical teaching; authorship of professional papers; participation in local, state, and national osteopathic organizations; and adherence to the professional and ethical standards established by the ACOS and the American Osteopathic Association.
Currently Dr. Arnold practices at Ouachita County Medical Center in Camden as a staff general surgeon.
In addition to Dr. Arnold's involvement with the American College of Osteopathic Surgeons, Dr. Arnold is a member of the American Osteopathic Association, Arkansas Osteopathic Association, and American College of Osteopathic Surgeons.
After earning his Osteopathic Medical Degree from the Oklahoma State University of Osteopathic Medicine, Dr. Arnold completed his internship at South Bend Osteopathic Hospital in South Bend, Indiana. Dr. Arnold then completed his residency training at Phoenix General Hospital, in Phoenix in 1989.
Dr. Arnold resides in Camden with his wife, Elaine. In his spare time, Dr. Arnold enjoys playing the guitar.
The American College of Osteopathic Surgeons is the primary advocate for the osteopathic surgical profession, representing more than 3,100 surgeons and surgical residents, and 3,200 medical students nationwide.
Sponsor Content
Comments