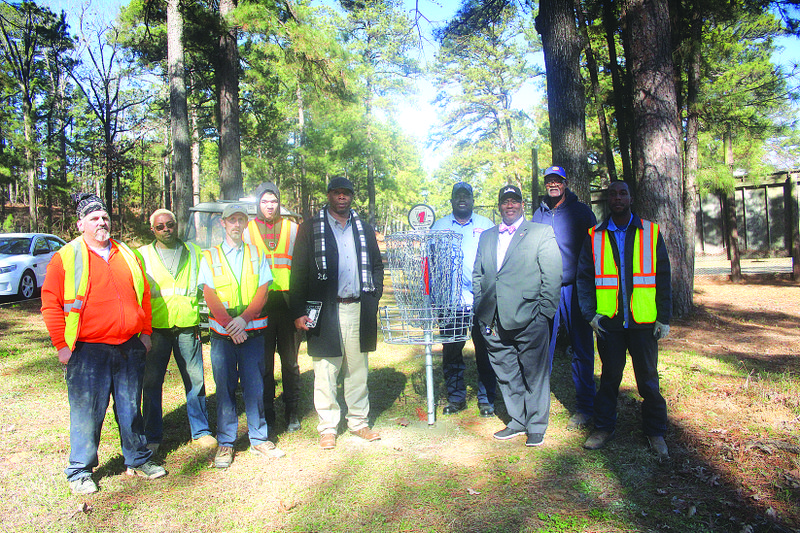 A new attraction is set to open at a city park in the spring.
Camden Public Works personnel are in the process of installing an 18-hole Disc Golf Course at Carnes Park. According to CPW Director Kevin Franklin, a grand opening for the course will be held in March.
Recently the Camden News spoke with Camden Mayor Julian Lott and Franklin about the course. Both expressed their enthusiasm in what they described as a growing sport with a loyal fan base.
According to the Professional Disc Golf Association website, disc golf is played like golf but instead of clubs and ball it uses Frisbee and flying disc. A golf disc is thrown from a tee area to a target, which is the "hole." The hole can be one of a number of disc golf targets; the most common is an elevated metal basket - which it what will be used at Carnes Park. As a player progresses down the fairway, he or she must make each consecutive throw from the spot where the previous throw landed. The trees, shrubs, and terrain changes located in and around the fairways provide challenging obstacles for the golfer. Finally, the "putt" lands in the basket and the hole is completed.
"There are people in Arkansas that travel as far away as San Antonio just to play," Lott said. "We have to make sure our's is up to par because those are the type of places we are competing with. It's going to bring people in to our city and it's going to be another thing for our residents to have fun with."
Franklin echoed Lott's statements and shared that the implementation of disc golf course will be finished just in time for the good weather. The park will also have softball tournament throughout the spring and the basketball courts rwenovation is still on schedule.
The course was designed by Jerry Brent Ray. Ray said that he became involved with disc golf when his friend DJ Moore invited him to play. After competing in the game at a local park, he had so much fun that he and Moore started to travel and play in different cities. Ray said that he was blown away by how big the disc golf tournament scene was and said that it has a bigger following then people would believe.
Ray added that another positive to disc golf is that it's inexpensive. He stated that people can make a one time investment of $15 for two golf disc that they can use for as long as they want.
"With regular golf, is a continual expense," Ray explained. "You cant play at many golf courses without paying that membership fee. You have to replace clubs and balls all the time. You don't have to do that with disc golf. You really can spend as little or as much as you want and still play the sport."
Ray also explained that one of the main draws of the sport is that people can play and even compete professionally regardless of how old they are. Ray shared how disc golf can benefit the community because of the many people that come to compete especially when there is a tournament involved. He stated that disc golf has a National Tour and a Pro Tour that comes through Arkansas. He has competed in tournaments and talked about how at one point he drove to Texarkana every weekend just to play.
"You can compete in a professional disc golf tournament every weekend if you wanted to," Ray. "You can't start playing basketball at the age of 30 professionally when you've never played before. Same with football. With disc golf, there isn't an age where people are going to say you're past your prime. I know people that are 80 years old that are playing and it's not gender specific. I would tell anyone to try it. I'm warning you, it can really be pretty addictive. It's a really fun sport."
Sponsor Content
Comments