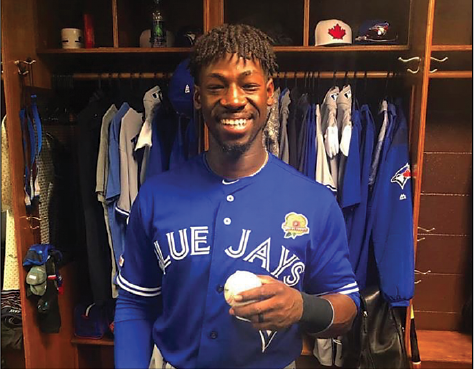 CAMDEN — By PATRIC FLANNIGAN
Sports editor
A native of Camden and professional athlete will host an MLB camp in his hometown.
Camden Fairview graduate, UCA Bear and MLB and MiLB player Jonathan Davis' JD 3:21 Foundation is hosting a "Legends For the Youth" baseball clinic in conjunction with the Major League Baseball Players Association from 10:30 a.m. to 1:30 p.m. on Saturday, Jan. 25.
The event is free to children ages 6-16.
Former MLB players will attend the event to teach participants life skills as well as the fundamental of baseball.
According to a news release, The LFY Clinic Series is a charitable program running more than 180 free events each year worldwide. Its mission is to promote the game of baseball to youth using positive sports images and personalities.
Davis' JD 3:21 has been active in his hometown since graduating from high school in 2010.
After being drafted by the Toronto Blue Jays as a junior at UCA, Davis spent 6 years in the minor leagues working on his craft and overcoming injuries. In 2018, it all came to fruition as Davis was called up to join the main roster of the Toronto Blue Jays and made his presence felt almost immediately by getting hits on World Series pitcher David Price.
Davis also reached another milestone by marrying the love of his life, Hannah and the couple is expecting their first child this year.
Despite having a busy schedule full of family and professional obligations, Davis still visits Camden frequently. He attends high school games and often talks to student athletes, classmates and former teachers and makes it a point to share an encouraging word. Last year he visited
"Being able to come back home is just special to me simply because its because of Camden that I am even where I am," Davis said humbly in 2019. "My family and friends are there and they all played a part in helping me accomplish my dreams. It's just awesome to be able to come back."
When asked what was the most important tool he hopes the campers will leave with, he simply said,
"Hope."
"It takes hope," Davis said. "We want to tell them that they can accomplish their dreams and be somebody. Not just with baseball but in whatever they want to do. We want them to always strive to be better. We are all going to have a good time.
Aspiring participants can sign up for the event by visiting www.mlb.com/mlbpaa then clicking "More Events" and scrolling down to the Jan. 25 date. After clicking on Camden Clinic there will be a red box in the upper right hand corner where parents and guardians can register their children.
Sponsor Content
Comments