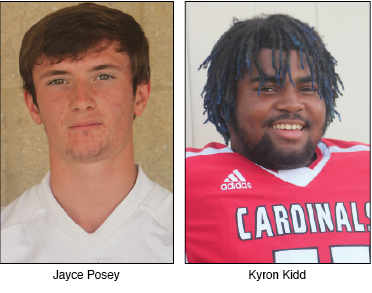 - Photo by Patric Flannigan
CAMDEN — • Harmony Grove's Jayce Posey is set to sign his National Letter of Intent to attend Henderson State University and play baseball with the Reddies. Posey is a multiple sport athlete and is in the process of finishing his senior year having been a starter in football and basketball already. Last year as a junior, Posey led the Hornets in fielding percentage (.967) and putouts (107) on the diamond. He also scored 24 runs and tallied nine stolen bases. The signing will be in the entrance at the H.G. Arena at 8:30 a.m. today.
• Camden Fairview junior defensive lineman Kyron Kidd recently garnered attention from the Arkansas Grid Report. AGR notes Kidd as one of the members of its C/O '21 Sleeper Team members that consist of the more talented student athletes that are under recruited. Kidd started every game in 2019 and is credited for 65 tackles.
• Correction: Last week it was reported that Javien Clemmer has 20 scholarship offers. This was an editor's error. Clemmer has a couple offers on the table with hopes of more to come.
The "Sports Spotlight" portion of the sports page has been created for the purpose of promoting Ouachita County high school student athletes to help with support and recruiting during the offseason of the sports they are playing in. The portion will also include recommendations from coaches or teachers to highlight area students for their efforts in the classroom or during practice. Every sport is included. All camp photos, recruiting news or hard working acknowledgments can be submitted to [email protected]
Sponsor Content
Comments